Franchisee vs Franchisor: Who has the upper hand? Technically, franchisors do since they are the "parent" licensing their business systems and trademarks to a franchisee.
From another perspective, franchisees have the upper hand since any deviation on their side could hurt the franchisor's image and business.
In practice, both must work together for each to be successful. Let's take a closer look at their roles to see how their differences affect each other, starting with the background of their relationship.
Franchisors vet prospective franchisees seriously to find the best people to expand the company name. Franchisors work hard over the years to test their products and services and fine-tune the systems that make their franchisees successful. 
The franchisee follows the processes laid out by the franchisor. Franchisees pay a franchise fee and ongoing royalties to work with franchisors. Franchisees gain instant name-brand recognition for their own business and a tremendous amount of support.
Of course, there are pros and cons to being the franchisor or the franchisee.
The Differences Between a Franchisee and Franchisor
Let's explore the franchisee vs franchisor differences in more depth.
1. Franchisee vs Franchisor Meaning
What is a franchisee?
A franchisee is a person or company holding a franchise license to sell specific goods or services. A franchisee buys a franchise from a franchisor in exchange for a franchise fee and royalty fee for the ability to operate the established business under the franchisor's parent's name and business model.
Franchisees typically undergo rigorous vetting and must meet minimum net worth qualifications and possess a minimum amount of cash and liquid assets. Other qualifications may include:
business and/or management experience,
restaurant or retail experience,
and multi-unit management background.
What is a franchisor?
In plain terms, a franchisor is a person or company selling the right to franchisees to open stores using its brand and sell products or services at a specific location. The franchisor grants the franchisee a license to utilize the brand name and business model in exchange for a franchise fee. In other words, the original company licenses to other entrepreneurs the right to operate under the franchisor's name and use its intellectual property, expertise, and business model at a specific location or geographical area.
Franchisors are sometimes called franchisers. Whatever name they go by, franchisors should have time-tested systems and processes in place for their chains to follow.
Franchisors can be brand-new to franchising or have been franchising for decades. A&W, Dairy Queen, Duraclean, InterContinental Hotels & Resorts, and Carvel are some of the many companies that have been franchising for more than 60 years.
2. Franchisee vs Franchisor Roles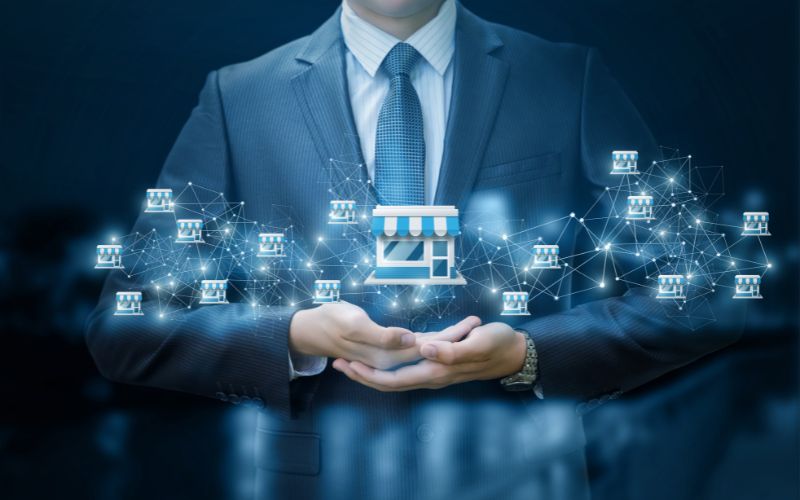 Both parties' roles and responsibilities are ongoing. They continue once a franchise agreement is signed and once a business opens.
Franchisee Roles:
Manage the venture according to the franchisor's vision and business model: This is perhaps the biggest role of a franchisee. Franchisors have time-tested practices to ensure the chances of a franchisee's success and want their company represented a certain way.

Run daily operations independently: A franchisee must be capable of recruiting and managing staffers and running their own business every day without the franchisor constantly hand-holding.

Pay royalties: A franchisee is responsible for paying weekly or monthly percentages of its total sales to the franchisor.

Communicate with the franchisor: If problems occur or the franchisee needs help, communicating with the franchisor is essential. Otherwise, problems go unaddressed and get worse.
Franchisor Roles:
Vet franchisees: Confirming financial qualifications is the minimum. The franchisor's business vetting process should also ensure that prospective franchisees share the franchisor's values, possess a strong work ethic and enthusiasm to learn, and can follow time-honed systems and processes.

License the brand name, trade secrets, trademarks, etc.: The franchise disclosure document (FDD) spells out what franchisors offer franchisees for a certain period.

Direct service area and business site selection: Franchisors choose territories to reduce franchisee rivalries while ensuring the most expansive customer base. A franchisee can propose locations if it wants, but franchisors always have final approval.

Offer ongoing training and support: Training and support typically mix online, in-person, and in-store education, grand opening assistance, and help with marketing, accounting, administration, and much more.

Use royalty money wisely: Franchisors use franchisee royalties to support ongoing franchise efforts and marketing endeavors.

Market nationally/regionally: Franchisors handle national marketing and advertising as well as research and development on new products and services. Royalties typically cover these expenses.

Make vendor recommendations: Franchisors often work out excellent deals with vendors and offer these to a franchisee.
The franchisor franchisee relationship has a lot of advantages but a few downsides.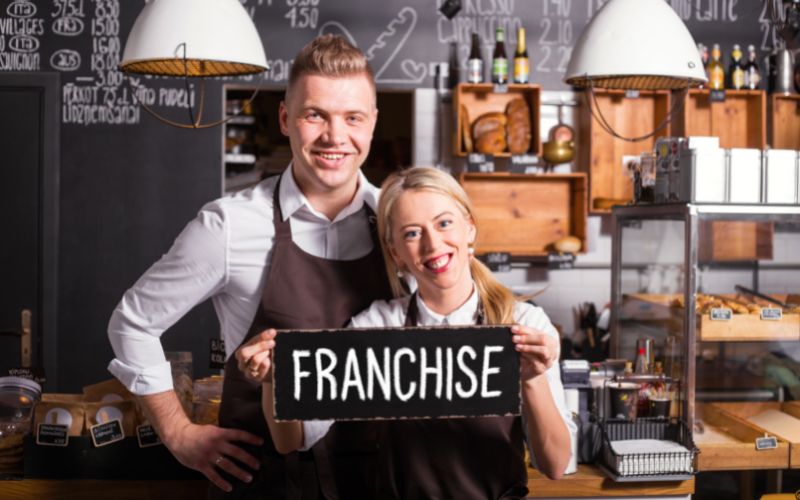 The pros and cons of franchising for franchisees
As for franchisees, they have a tailor-made established business model to follow. This is typically a pro but can be a con to some people if they feel restricted and like they cannot be creative.
A business owner who must always be in control and flex their creative muscles might feel stifled under a franchise system. For example, a franchise business cannot run its own ad campaigns or try out a new product, at least not without prior franchisor approval.
The pros of franchising include:
Plus, franchise business owners have a huge amount of sectors and business types to choose from. Experience in a specific field is usually unnecessary, although some franchisors prefer a business background. Franchises are available at many levels and price points and in different areas of the country. That gives entrepreneurs a lot of flexibility to find a good match for their situation.
Growth potential
A pro for both is future growth and scalability. The expenses of opening second and third units (and so on) are lower than opening that first franchise. Franchisors love seeing franchisees succeed and so encourage multi-unit ownership.
If you are an international business owner or entrepreneur, a huge pro of becoming a franchisee is a relatively easy route to E2 visa approval.
The pros and cons of franchising for franchisors
Advantages include:
To franchise or not?
When a company evaluates whether it wants to begin franchising, it examines factors such as the size of prospective franchise fees, the cut of profits it could retain, the quality of possible franchisees, and the degree of control the company wants to keep.
Many companies decide to go ahead and franchise. Some put off the decision or choose fewer locations and regimented control over franchise expansion.
How to become a franchisee through an E2 treaty visa
If you are a business person or entrepreneur interested in moving to the United States, owning a franchise is a smart way to do so. You must be from a treaty country and obtain an E2 visa.
Substantial investment and ownership
Plan on an investment of at least $100,000. You typically must have at least 50 percent ownership of the business, although there is more flexibility in this area the higher your investment is. Complete (100%) ownership is ideal the lower your investment is.
The E2 process takes a few months usually. Working with a franchise consultant streamlines the effort of analyzing the various franchisors and finding the ideal franchise match. Otherwise, it can be overwhelming to assess the thousands of available franchise opportunities. Consultants can put you in touch with franchisors more quickly and at a higher level, too.
Once you have picked a franchisor and signed agreements, you invest the necessary money as per the agreements. Start on the E2 application and the visa business plan. It is not exactly the same as a typical business plan.
For instance, your audience is immigration officials, and they want reassurance that the business is not marginal. The venture must create full-time jobs for American workers and make enough money to support themselves and their families.
Invest before applying
You must have already begun to invest money before you submit the visa application. On the off chance your application is rejected, take steps to protect your investment and have funds returned if necessary. Franchisors are aware of this possibility and are generally understanding. Fortunately, rejections are rare especially if you satisfy the substantial investment, ownership, and not marginal business conditions.
The successful business relationship between a franchiser and a franchisee can start in one of many ways. Perhaps an entrepreneur has admired a certain franchisor for years and now has the means to open a franchise. Maybe international entrepreneurs want to move to the United States, and they engage franchise consultants to help them discover the perfect match.
Not every franchise is right for every potential franchisee and vice versa. It's also important for a franchisee to vet franchisors to ensure they actually do provide the ongoing support and education they are supposed to.
The main considerations that franchisors and franchisees should keep in mind during the early, vetting stages include franchise fees, royalty amounts, the values of each party and their work ethic, and the franchisee's ability to follow the business system and process.
Get in touch with franchise consultant Adam Goldman today to explore your options as a potential franchisee.
---