Are you an entrepreneur looking to invest in the United States? The E2 investor visa could be the perfect option for you! With this visa, small business owners can come to the US and start their own small franchise business.
But before taking on such a big endeavor of franchise ownership, it's important to know which small business ideas are best suited for non-local investors.
In this article, we'll discuss some small business ideas from four different franchising sectors that are available in the US. These concepts are perfect for E2 visa candidates who are looking for profitable but low startup costs franchise investment. We'll cover everything from the fast-food industry to pet care services.
But before we dive into these great small businesses, let's answer this question first: "Is a franchise a small business?"
Is a franchise a small business?
The United States Small Business Administration (SBA) outlines that a small business has less than 500 employees and generates receipts of up to $7 million each year.
In franchising, the cost of investment of small franchise businesses in the US can vary immensely depending on the kind of business, location, and size.
Generally speaking, your expenses are likely to range somewhere between $50,000 – $500,000. These initial franchise fees cover the franchisor's start-up costs and inventory costs at a minimum.
So the question stands: "Can a franchise be considered a small business?"
Absolutely! The truth is that franchises are small businesses, although others are considered large businesses.
Take franchises managed by multi-unit operators in the food and restaurant industries, for example – they are far from small businesses. These franchise owners are a publicly traded company with hundreds of units, driving millions every year as revenue.
This shows that some franchising operations grow and evolve into larger ones over time. It is quite possible that these multi-unit franchise operators will transition to bigger business models given the right circumstances.
For investors seeking a chance to enter the US market, franchising offers an ideal avenue with several benefits. Not only does it provide them access to established networks and experienced guidance but also allows for greater freedom than operating from scratch.
Joining an already-established franchise network has countless benefits, like having a pre-existing customer base and access to the franchisor's support. If you are thinking of starting or expanding a business overseas in the United States, below are some industries that may be worth exploring:
4 Industries With Small Franchise Business Ideas For E2 Visa Candidates
Aspiring entrepreneurs entering the US through an E2 Visa may find many great investments in the form of small franchise businesses. Yet, it can be difficult to determine which industry is most suitable for you and your goals.
To help narrow down the field, let's consider three criteria: profitability, marketability, and associated business ideas within each industry. We also include franchise examples available in the US but not all in the lists accommodate E-2 visa candidates.
Doing so will help you make a well-informed decision when selecting the right business investment.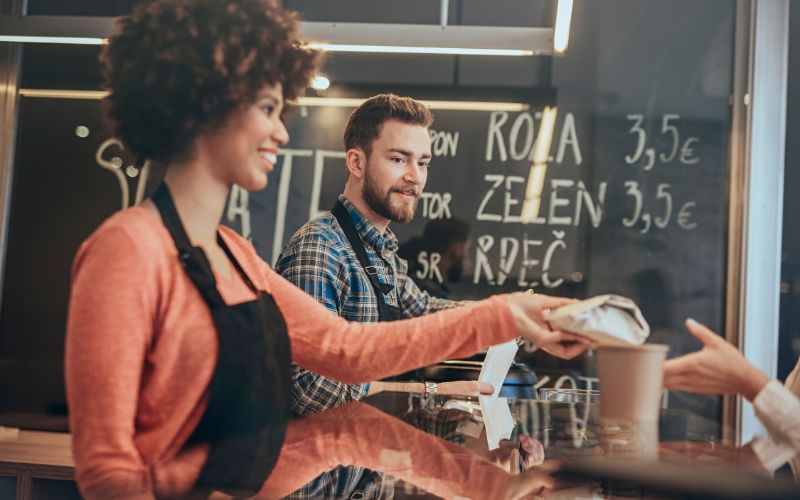 The fast food industry is a system of restaurants that offer patrons speedy service for their quick-service meals. You can enjoy them right away, take them home with you, or even have them delivered to your doorstep! The top products served in the fast food model are:
succulent burgers,

crispy chicken sandwiches and nuggets,

savory global cuisines such as pizza and pasta dishes,

as well as a range of fresh options from fast-casual concepts.
Here in the US, fast food is an incredibly popular option thanks to its affordability when compared with other types of restaurants. According to IBISWorld's findings, there are currently more than 300,000 outlets across the country and that number is projected to grow by 1.3% this year alone!
Fast food has become a go-to for many Americans due not only to its convenience but also because it provides excellent value for money.
Research reveals that businesses from this sector are perfect for starting up. But beginning a new business requires extensive analysis to determine if the venture will be successful in the US market and bring in profits.
A better option is finding established affordable franchises with low-cost franchise fees in the fast food sector, such as the following:
Chester's Chicken
One of the low-cost franchises on this list is Chester's Chicken. This small business offers fried chicken and other food items to its customers. What makes Chester's Chicken a great small business opportunity is that it requires only a low initial investment.
Firehouse Subs
It is a small business franchise that offers high-quality, freshly-made sub sandwiches and salads at an low-cost price. Besides the initial investment for this small business franchise being low, one of the major benefits of investing in this franchise has a solid track record of success.
Firehouse Subs has been consistently profitable since its inception and continues to be a leading small business brand in the United States.
Quizno's
Quizno's is one of the highly profitable low-cost franchise opportunities in the US. This small business has consistently grown and becomes one of the most popular small restaurant businesses in the country.
Papa John's
Papa John's is a small business franchise that specializes in pizza delivery. This small business has been successful for over 30 years and continues to be one of the largest small restaurant businesses in the US. These are just some of the small franchises that can provide you with an opportunity to enter the US market with an E2 visa.
Read the "The 10 Cheapest Food Franchises to Open Today (2022)" blog to learn more.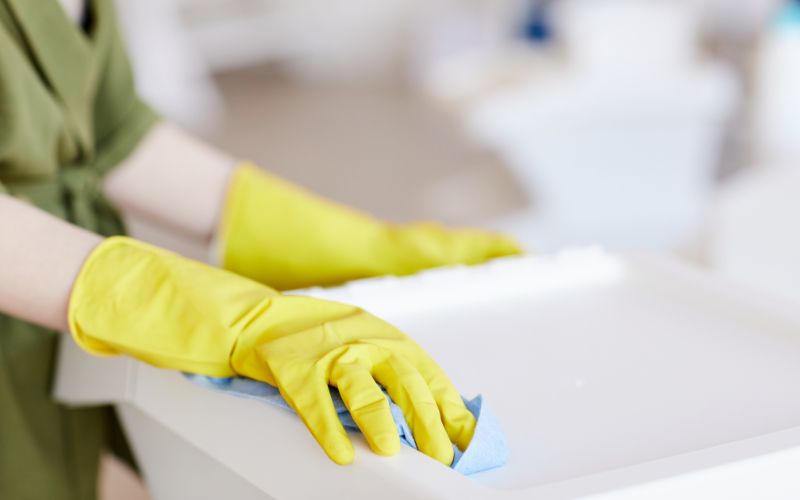 There is an ever-growing demand for cleaning services worldwide. This lucrative industry continues to grow each year, and there are always people looking to hire a professional cleaner.
The residential cleaning industry is steadily growing year over year, with 80% of households projected to use housekeeping services by 2024. Moreover, the commercial cleaning market is forecasted to reach a staggering $468 billion in revenue by 2027 – an impressive 51.67% spike from its 2020 value of $308.7B!
For example, a one-person cleaning business can generate an impressive annual income of up to $50,000.
Meanwhile, commercial cleaning businesses with multiple employees have the potential to earn millions in profits each year! The amount of money generated by a given company depends on its particular niche and the competition they face locally.
Small Business Ideas for Cleaning Services:
House Cleaning 

Window Cleaning

Dry Cleaning 

Carpet Cleaning

Boat Cleaning Service

Pool Cleaning 
By obtaining a cleaning franchise, you'll avoid much of the arduous effort and risk involved in launching your own business. Cleaning franchises are particularly attractive due to their lower initial investment costs compared to other industries – for example, opening up a McDonald's may require upwards of $2.2 million!
Hence, with the significantly lesser financial commitment required for buying into cleaning franchises, this small business venture is highly accessible and very appealing!
If you're looking for a reliable residential, commercial, or specialty cleaning franchise opportunity with great brand recognition and a robust franchising support system; then the following franchises should be on your list of considerations.
Vanguard Cleaning System
Vanguard is an excellent a profitable franchise to start for aspiring entrepreneurs and small business owners. This franchise offers a comprehensive commercial cleaning service, including standard and specialty options as well as janitorial supplies and paper products.
Jan-Pro
JAN-PRO Cleaning & Disinfecting, a top commercial cleaning franchise in the US, is widely recognized for its reliable brand reputation and comprehensive cleaning processes. With over 10476 units open today, you can start your own business with JAN-PRO for only $2,150!
All that's required are just a down payment of $1,250 and JAN-PRO Franchise Development's starter kit (at an affordable cost of $900).
Chem-Dry
For the past four decades, Entrepreneur magazine has imperiously placed Chem-Dry atop its list of premier franchise systems. 2,500 international franchises already use our patented products to guarantee success in their businesses and with a 45-year track record of excellence backing them up.
The Franchise Fee is just $23,500 – an investment that will pay off exponentially!
Chem-Dry offers an inexpensive and convenient in-house financing option for the license fee. Are E2 Visa or EB-5 Visa candidates welcome? Absolutely! This proven business model is more than happy to work with you. Their door is always open!
Oxi Fresh Carpet Cleaning
Entrepreneurs throughout the U.S. and Canada have joined the Oxi Fresh Team, recognizing the massive opportunity offered by the World's Greenest Carpet Cleaner®. As part of Oxi Fresh, you will the following benefits:
Launch your business with a minimal investment of less than $50,000 and get the full equipment package you need to succeed.

The nationwide scheduling center boasts an impressive closing rate so you can quickly grow your customer base.

Their turnkey marketing solutions are designed for any market size, comprehensive business support, and training tools,

Carpet and Rug Institute certification (CRI), plus generous discounts on multiple territories – it's no wonder why they have become one of the top providers in the industry!
The cash required is also low, which is less than $25,000. In addition, this small business franchise opportunity is also open for E-2 visa candidates.
Steamatic
This franchise delivering cleaning and restoration solutions for almost 50 years and has been operating in 24 countries with 500 franchise territories worldwide.
Steamatic can provide a cost-effective option for aspiring franchise owners. It's the perfect opportunity for international citizens who want to move to America and build a successful enterprise – as it is eligible under the E-2 visa program!
Plus, Steamatic's low investment costs, makes this venture even more achievable. So don't delay any longer – seize the chance of earning great returns while making your American dream come true today!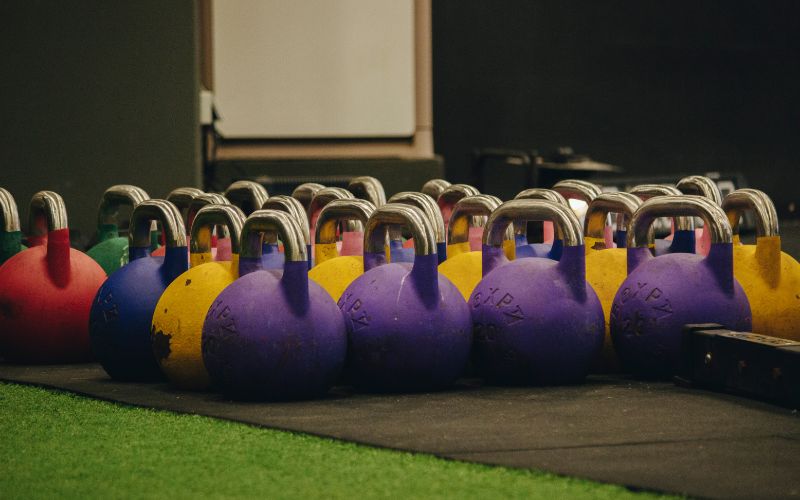 Boasting tremendous growth, the fitness industry is expected to remain on an upward trajectory for the next five years. This can be attributed in part to burgeoning budget gym chains and premium functional fitness centers coupled with heightened public awareness of physical activity's health benefits and a greater overall mindfulness of wellness.
The fitness industry is flourishing at an unprecedented rate as people across the globe prioritize their health and well-being.
Get a glimpse of these astonishing facts about the global and U.S.-based fitness sector: according to Zippia, a total market worth surpasses $87 billion US revenue for 2021 clocked in at $33.25 billion.
Nearly 40% of Americans are gym members, and estimates that by 2028 it could hit over $434.74 billion—a whopping 171.75% increase!
Health clubs, fitness centers, and gymnasiums are among those leading this charge toward bettering our well-being through exercise. However, there are other unique ideas in this sector that you can invest in.
Small Franchise Business Ideas for Fitness Sector
Yoga studios are in high demand as they offer a unique experience to their customers.
Sports training centers offer various types of physical activities like swimming, martial arts, basketball and
A studio for dance steps, such as Hip Hop, Ballroom, Zumba, and more to keep people in good shape.
Sports nutrition stores offer a wide range of products to help athletes get the right amount of nutrients and supplements to stay fit and healthy.
This concept sells fitness equipment like dumbbells, treadmills, yoga mats, and more.
Planet Fitness
Michael Grondahl and his son Marc established Planet Fitness in 1992, with its headquarters located conveniently in Hampton, New Hampshire. Ever since then, the company has grown exponentially; it currently boasts 2,039 locations across North America, Canada, Australia, and Latin America!
Crunch Fitness
In 1989, Doug Levine created Crunch Fitness with the goal of inspiring individuals to crush their goals. With the tagline "goals are made to be crushed" and an affordable $9.95 per month membership fee, it's no wonder that this fitness club now has more than 300 locations in New York City alone!
Anytime Fitness
At Anytime Fitness, headquartered in Woodbury, Minnesota – you have access to a 24/7 fitness club at over 4,000 locations worldwide. What's more? You can even stay connected and engaged with the company anywhere via its mobile app!
Just like any other health & wellness business – this one is accessible through all your devices for convenience. Also, Anytime Fitness accommodates E2 visa candidates.
9Round
9Round, owned by former IKF Light Middleweight Kickboxing World Champion Shannon Hudson and his wife Heather, is the world's premier kickboxing workout provider. Known for its punishing yet rewarding exercises, 9Round offers the best in fitness training that will help you reach your goals!
Burn Boot Camp
One-of-a-kind fact about Burn Boot Camp is that this club is mostly for workout-minded women. This fitness club was founded by Devan Kline and Morgan Kline way back in 2012.
From a parking lot of a gymnastics studio, the Burn Boot Camp is now operating in 38 states. Imagine, they just began their franchising in 2015!
Read more about fitness franchises here.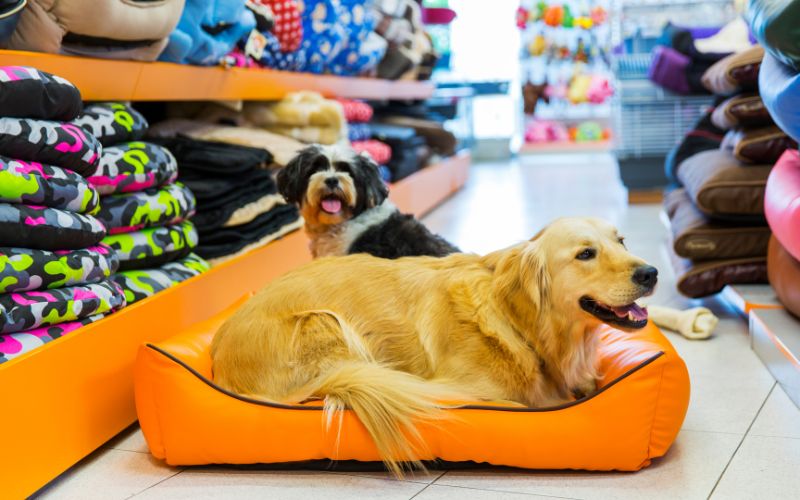 The pet industry sometimes known as petconomy is the market industry associated with companion animals.
Globally, the pet care market has grown to $261 billion in 2022; up from $245 billion in 2021. An estimated 6.1% compounded annual growth rate (CAGR), will catapult that figure to $350 billion by 2027.
For entrepreneurs eager to penetrate new markets, pet food and pet supplies are the second and third biggest eCommerce CPG categories across the industry. The promise of prosperity is acutely high within the natural foods, animal care, and supply sectors.
The increasing number of millennial pet owners in the US who double the demand for services and products further attributes to industry profit.
Here's the list of franchise ideas that can be found within this category.
Pet Franchise Business Ideas
If you have a pet, then these retail businesses are your one-stop shop for everything they need! From food to toys and more, they carry all the supplies necessary to care for your furry friend.
When pet owners are unable to provide the necessary care and attention, this type of service comes in handy by ensuring their furry friends get what they need.
These businesses provide comprehensive training programs to help dogs and their owners become better-behaved companions.
If you're looking for a reliable animal grooming business, look no further. We specialize in providing personalized services to groom dogs, cats, and other furry friends!
When pet owners need to be away, these services provide the perfect solution with their comprehensive pet care and dog daycare offerings.
Most pet franchises are small businesses operating on a local level. This makes them ideal for small business owners looking to take advantage of the e2 investor visa program.
With pet-related businesses continuing to rapidly expand, small franchise investors have more options than ever before when it comes to finding a successful small business opportunity in the US.
Be sure to research the market carefully and consider all factors involved before investing in a small franchise business. Here are some franchise opportunities in this sector with a less initial franchise fee.
Dog Training Elite
Dog Training Elite is currently the nation's most rapidly-growing dog training franchise! In just three months of 2022, we've already granted franchises to 20 new Franchise Owners across 42 territories.
Franchise Owners in 2021 earned an average revenue of $113,628* due to Dog Training Elite – and this pet industry sector continues its upward trend with no end in sight.
In addition, this franchise works with E2 visa candidates.
Doody Calls
With a reputation of excellence, Doody Calls provides pet waste removal service to all types of residences including apartments and Home Owner Associations. By joining the DoodyCalls franchise family, you will receive an abundance of invaluable resources for an initial fee of $34,500.
There are presently over fifty-seven units actively working in business!
Fetch! Pet care
Fetch! Pet Care is America's leading and one of the most profitable franchises. Their reliable professional dog-walking and pet-sitting services are cost-effective and convenient.
Does Fetch! Pet Care accommodate E2 Visa candidates? Absolutely. Not only does the franchise provide services to those with an E2 visa, but they also extend support to EB-5 Visa candidates as well.
They will provide their franchisees with the necessary marketing support, technology guidance, and operational assistance needed for the business to grow.
BarkSuds
Their membership salon service provides your pet with a luxurious spa experience every visit. Other services include ear cleaning, express gland expression, brushing of teeth and nails, and double towel drying for extra fluffiness after blowout styling.
If you want to join this small business franchise, there are certain financial requirements that need to be met. You must have a minimum net worth of $250,000 and pay an initial Franchise Fee of up to $45,000 per location.
Furthermore, both single-unit agreements, as well as exclusive area rights, can be obtained through multi-unit contracts!
Wolf Gang Bakery & Grooming
This franchise specializes in quality food, all-natural baked treats, and grooming for cats and dogs serving in 200 locations.
Not only is owning pets an American pastime, but it's also becoming a very profitable industry. According to the data released by American Pet Products Association, 85 million households in the US are home to furry friends, and this year alone pet care spending will exceed $123 billion!
Small franchise business ownership is a rewarding job, however, it often requires making difficult decisions. You need to weigh what business you are passionate about, to find the cheapest and most profitable franchise business.
The four industries and franchise examples above enlighten you to find the right business path to take.
Fast food restaurants are quick to set up and require small amounts of capital, making them ideal for small business owners.
Cleaning services offer a great opportunity to serve both small residential and commercial customer, and it has low startup costs.
The fitness sector provides a wide range of services and can be tailored to your own city or neighborhood.
Finally, pet care is a booming business that is sure to bring in big profits if you seize its potential.
When considering which type of business venture to pursue in the United States, it's essential to remember that a substantial investment is needed for an E2 visa.
If you want assistance to know what kind of franchise would be best for you, make sure to consult a qualified franchise consultant first.
---