Franchises are million- and billion-dollar businesses attracting many types of investments in the United States. Foreign investors in US are among those who contribute mightily to the country's franchises, assets, capital, and financial markets.
The U.S. wants them, loves them, and encourages them wholeheartedly. Many cities even offer tax breaks and other incentives when actively seeking out global companies and investments.
A foreign person from abroad who wants to invest in U.S. can enter through the E-2 or EB-5 program, among others. These foreign persons can bring their spouse and children under 21, too.
Entrepreneurs must undertake major paperwork when applying, for example, preparing visa business plans, clarifying their financial position, and securing leases and funding for U.S. investments. As long as an investor follows the requirements and shows a substantial investment and genuine commitment to the business, the odds of approval are very high.
International franchise entrepreneurs like their prospects in the U.S. because of the different opportunities available in sectors such as quick service restaurants, physical fitness, pet care, and hair salons. Investors have a lot of long-term power and control to set their path in the U.S. They can largely choose the type of business for their investments and where they live.
Does the US allow foreign investment?
The United States enthusiastically welcomes foreign direct investment and has long done so. U.S. officials know that foreign boosts the level of foreign capital in the economy.
That translates to more land and real estate, buildings, equipment, copyrights, trademarks, and patents in the economy. Other top reasons the U.S. loves the value foreign owners bring include these:
New people, ideas, and perspectives drive innovation and help the U.S. remain competitive in the world economy.
Foreign direct investment would go elsewhere and benefit other countries instead of the United States economy.
GDP (gross domestic product) and labor production rise.
Employment levels and wage amounts increase, too.
The workforce becomes more skilled.
The U.S. collects more money in taxes.
Foreign entrepreneurs must pass review and minimum investing standards.
Time for a few statistics:

The top three investing countries are Japan (15 percent), Canada (12.9 percent, and Germany (11.6 percent). The top three invested sectors are manufacturing (40.8 percent), financial and insurance (12.1 percent), and wholesale trade (10.3 percent).
Why do foreigners invest in the US?
Just as the U.S. adores having foreign investors, they love investing in the United States, too. The reasons are varied, and one comes down to the "American Dream." That is, some types of foreign direct investment (FDI) allow people to move to the United States and live there for many years or even the rest of their lives if they want. Investors and their families have more economic, educational, and social opportunities than they might have elsewhere.
All in all, the U.S. is the country that has the most foreign direct investments, with China a close second. 
Reasons include…
the ample consumer base, 
productive workforce, 
developed infrastructure, 
the focus on innovation in business, 
and the transparent, relatively fair justice system.
Foreign nationals enjoy the relative ease of different types of foreign investment in the United States, such as…
E-2 treaty investor visa approval rates are high, about 89 percent, and franchisors give investors ready-made systems and processes to follow.
That is even more important for people who might still be getting used to a different culture. The premade franchise blueprints reduce the chances of making gaffes.
They are available in virtually any sector too, including restaurants, convenience stores, pet-related, health aids and services, hair salons, carpet cleaning, home repair, cleaning, and shipping. The list goes on. (That said, a few extremely competitive franchises do not work with foreign investors. Fortunately, the overwhelming majority of U.S. franchisors are more than happy to collaborate with foreign nationals.)
Foreign Direct Investment is popular in the U.S. because of the lesser amount of risk. The financial markets are highly liquid and efficient. The U.S. has relatively strong corporate governance and laws, although with some limitations that become more evident during economic downturns.
Overall, investors tend to feel safer putting their money in the U.S. market than in another international market. It is also another way to diversify risk and concerns.
Many cities and areas in the U.S. also proactively seek out international investment and investors. These cities work with foreign companies to ensure these entities receive:
economic incentives,

tax breaks,

and "aftercare" services such as assistance with visas and regulatory compliance.
Aftercare services mostly occur after a company has been set up in the U.S. It is nice to feel wanted, and American officials certainly want foreign-owned companies.
Why these investors are such great franchisees?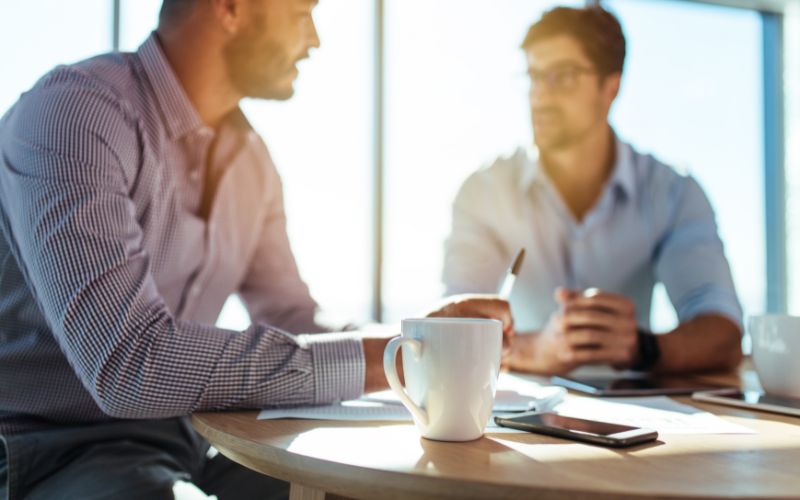 When it comes to potential franchisees, foreign business investors should be the dream come true for many federal officials and franchisors. Not only do they possess a sizable pool of potential capital to invest in existing franchises, but their global expertise can often be an invaluable asset when expanding businesses into new markets.
With their extensive knowledge of foreign cultures, networks abroad, and potential financial resources, such investments can be valuable assets to franchisees when they go global. This makes them the ideal partner for franchisors seeking to take their business even further. Read on to find out why these investors are such great franchisees!
Not just any foreign investors can move to the U.S. Rather, foreign direct investors must meet certain standards to be able to invest. For example, those seeking E-2 visas must demonstrate substantial investment/equity and the ability to support themselves in the country. Minimum foreign investment amounts start at $100,000 to $150,000.
2. Willingness to invest in the U.S. economy
Immigrants are twice as likely to launch a business in the United States compared to those born here, so American officials encourage foreign nationals. What sets potential franchisees apart is their commitment and enthusiasm for growing a business—essential qualities of any successful entrepreneur.
They also have innovative mindsets and positive outlooks on life which will prove invaluable when wanting to make it with franchising. The International Franchise Association endorses this fact and welcomes immigrants into the country accordingly!
3. Critical personal reasons to make the enterprise succeed
If an American born in the U.S. starts a business and it fails, the person can remain in the country. However, foreigners in a similar situation may have to leave. They have a personal stake in ensuring that their company succeeds, creates jobs, and adds economic value.
Just the fact of the time, effort, and expense they spend during the visa approval process speak to their innate desire and keen motivation to do leading business work.
4. Ability to hit the ground running
An international investor must be able to get the venture going from the first day he or she arrives in America. Much of the work is done before visa approval.
For instance, if there are franchise investments, then agreements typically have been signed, real estate or facilities secured, U.S. assets identified, supporting data for the business provided, and so on. A foreign investor can get franchise holdings going more quickly than an American might even with an additional few months for foreign visa approval.
5. Understand the importance of following systems and processes
To obtain visas for investment in America, foreign nationals must clear regulatory hurdles, prepare business plans and other types of paperwork, and follow extremely nuanced sets of rules. They must fill out different applications, meet with many people, and complete interviews.
Doing this and getting approved for foreign investments in the U.S. shows that the foreign national is more than capable of understanding and following rules. Franchisors place great emphasis on following their system rather than franchisees up and doing whatever they feel like.
6. See the potential for expansion
After making a successful entry into US markets through foreign investment, potential business owners have several directions they can take. Some investors stay the course, opting to expand their current enterprise by opening a franchise and investing in more units, expanding company value, and creating more U.S. jobs. It is a win-win all around.
This makes the most sense for investors who became franchise owners and are happy with the progress they've made and see potential in continuing with similar investments.
On the other hand, those looking to maximize their success may consider diversifying their portfolio in search of new franchise opportunities.
7. Franchisor expansion or exposure to international markets
Franchising presents an enticing opportunity for aspiring franchisees to expand their reach globally. Not only does it attract foreign investors, but these individuals can also assist with introducing the brand in different markets that are far from its origin country.
Take, for instance, the example of a foreigner who introduces colleagues and businesses back home to the benefits associated with joining a certain franchise. This kind of exposure is invaluable when it comes to increasing potential market penetration outside one's own nation.
If franchisors are searching for prospective allies in foreign countries, future franchisees could realize that through expansion and recognition their potential to advance is more than expected.
Investing in a foreign franchise can be a great way to diversify investments and increase tax benefits. US foreign investors are, in particular, some of the best potential franchisees due to foreign government tax exemptions and schemes available.
Investing money out of the United States gives foreign investors access to foreign tax laws that other foreign investors may not be exposed to. Such advantages often give foreign investors a much higher rate of return than if they had invested domestically in the same industry.
9. Experienced with international investors
Many franchisors themselves were not born in the U.S. and/or have parents or close relatives from elsewhere in the world. They know as well as anyone the hard work and results that people from global countries can achieve. These nationals can make a million, billion, or even trillion dollars for companies.
With US foreign investors, you are tapping into a potential pool with a lot of experience and potential for success.
Not only do these potential franchisees have knowledge on franchising that companies can take advantage of, but they also have great insight into foreign investments -– making them ideal candidates to join the franchise industry.
Having sharp minds with both international and franchising knowledge could be the ticket to big profits and more growth potential.
10. Exposure to domestic markets
Finding a great franchisee isn't always easy – trust me, I've been in the business for years. But one demographic stands out to me because of its inherent domestic market knowledge: US foreign investors.
They're generally an underused resource, but when it comes to both understanding domestic trends and tapping into an array of potential international strategies, US-based foreign investors may be the best potential franchisees you've ever come across – they can help your domestic business thrive while also getting your enterprise out into new markets.
Many corporate franchisors prefer those unit owners to be hands-on. They would also rather the business opportunity be something that an investor has a legitimate daily interest in. Visa requirements generally mandate that a foreign national's ownership stake must be significant, the business must create jobs and income, and the owner must be involved to a certain level.
12. Experience and a deeper applicant pool
Quite a few franchisors do not require that owners have experience in the specific area of the franchise (say, pet care) but do want some kind of business background.
After all, most skills are transferable from sector to sector. By allowing foreign investment, a franchisor attracts more applicants and can be pickier about who it chooses. It does not have to settle for someone who lacks sufficient corporate experience.
13. Increased resilience and versatility
US foreign investors make a particularly attractive potential franchisee option due to their increased resilience and versatility. Greater access to capital means they are often in the best position to take advantage of potential opportunities as well as navigate potential pitfalls that come with running an international business.
With these advantages in mind, US foreign investors prove to be one of the best potential candidates for franchising.
Get A Visa to Operate a Franchise in the US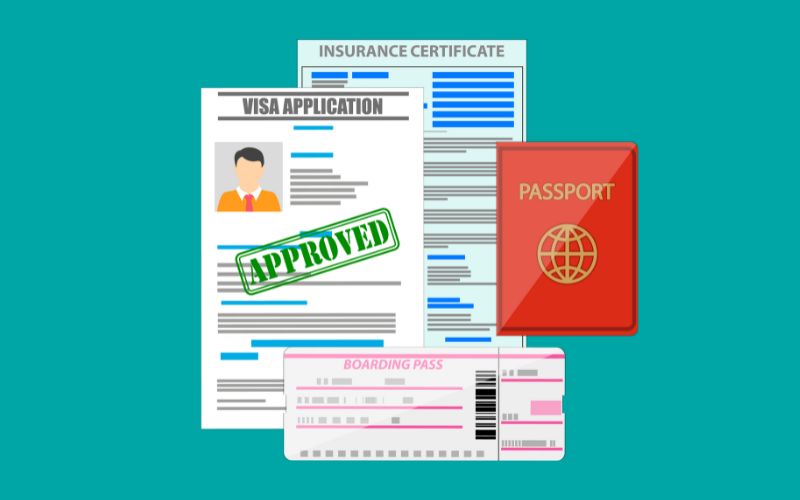 If you are interested in operating a U.S. franchise, your best bet is either the E-2 treaty investor visa or the EB-5 program. The route you choose depends largely on how important permanent residency is to you and the amount of capital you have readily available to invest.
This is the easier direct investment visa to get by far. Approval takes a few months at most. The minimum investment threshold is about $100,000. E-2 visas work with many franchise investments. If you are looking into lower-cost nontraditional units or less expensive franchise opportunities, you may need to go multi-unit to meet minimum investment requirements.
While this is not a route to pursue if you adamantly want a green card, you can live in America for as long as your holdings are operating/as long as you have the investment.
That could be many years, even the rest of your life. Your spouse and children under 21 years old can move to the U.S. with you, too. There is no limit on the number of E-2 visas the U.S. is allowed to issue each year.
This type of direct investment visa can lead directly to a green card and permanent residency. It does take longer for approval, about two years.
The investment threshold is higher and starts at $900,000 in targeted employment areas (those that are rural or experience unemployment of at least 150 percent of the U.S. average). It is $1.8 million for non-targeted areas. Your investment must create at least 10 jobs.
Your spouse and children under 21 years old can move to the U.S. with you, too. Ten thousand EB-5 green cards are available yearly.
Foreign Investment in the United States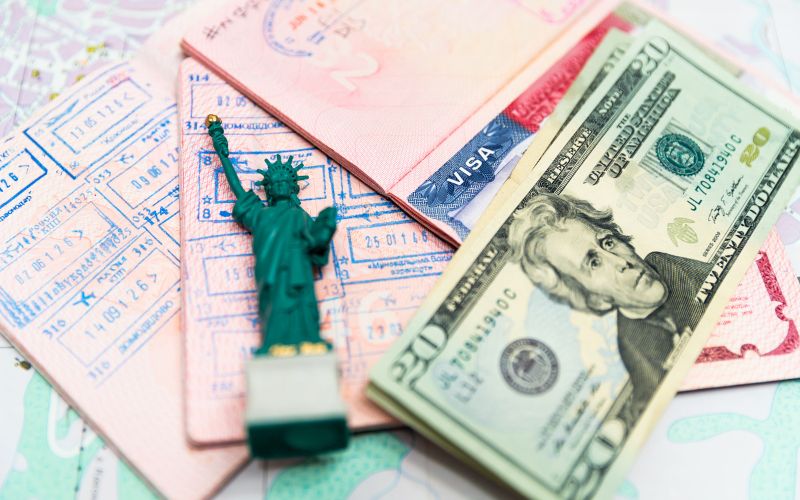 Numerous global companies and individuals contribute foreign capital inflows of billions of dollars and assets to the U.S. economy every year. America welcomes these opportunities, foreign capital inflows from overseas investment and opening its arms to people from many countries through E-2 visas and other means.
Franchises represent an excellent chance for people from abroad to move to the U.S., increase their income, and position themselves and their families to succeed. The U.S. gives them the power to contribute capital inflows and choose the sector they invest in and even the amount of their investment as long as it is at least about $100,000.
Then there are the relatively stable and efficient U.S. financial markets. If someone opened a business back home, it might be at risk of folding overnight if the country's economy collapsed. A venture vanishing overnight is less likely to happen in the U.S. Likewise, U.S. assets are relatively safe.
Obviously, the decision to choose which type of franchise to invest in is not one to make lightly. It involves major research and discussions with franchisors but does not have to be overwhelming.
A franchise coach or consultant such as Adam Goldman can streamline the process considerably at no cost to you. (The franchisors pay the coaches when a new franchise owner signs on.) To maximize your investment in the United States, team up with others rather than try to do everything yourself. 
---