Franchising offers the best of many worlds for entrepreneurs who are not U.S. citizens but want to move there. The American dream to own business in the United States is not limited to only U.S. citizens. How to start a business in USA for foreigners is easier than you may think, especially if you have $100,000 or more to invest. You do need a visa.
The early steps involve learning about the pros and cons of franchises, researching the various franchise opportunities available to E2 visa holders, and talking to franchisors about you starting a business.
A franchise coach can be a great advocate on this journey and help you avoid costly and time-consuming mistakes.
Once you've settled on a franchise, you write a couple of business plans. One is for you, your partners, and your investors and the other is for U.S. immigration personnel when they review your E2 visa application. (Yes, the plans need to be a little different because they are for different audiences.)
You apply for the E2 visa and set up an interview time. If all goes well, and it should since E2 application acceptance rates are about 89 percent, you move to the United States.
Next begins a wonderful new phase of your life.
What is a franchise business and what are the benefits of owning one?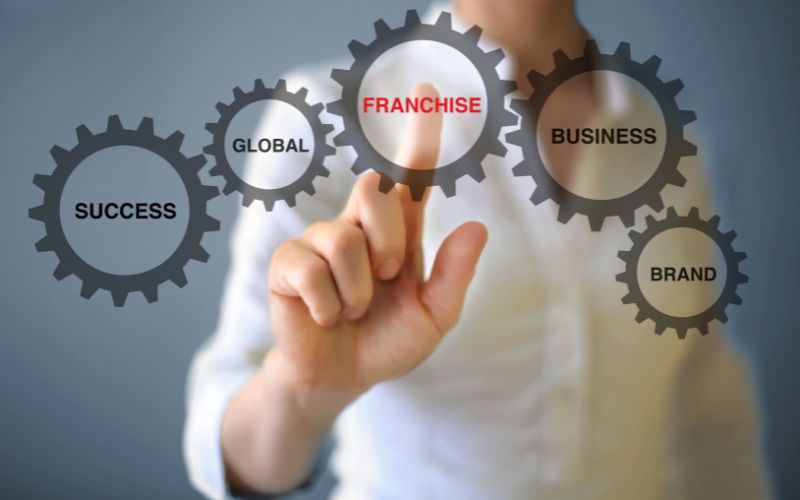 Franchise businesses are everywhere in the U.S. and the world. Wherever your home country is, chances are it has a lot of franchises. And this is the best option to start a business in the USA for foreigners.
They operate like this: A franchisor grant licenses to licensees (franchisees) to operate the business. Franchisees get to use the business name and sell its products and services.
Franchisees must follow the systems, processes, and regulations that the franchisor sets out. Common franchise types include food and drink, retail, health and fitness, and business services. Opportunities are available in virtually any industry and sector.
Perhaps the most well-known franchise in the United States is McDonald's. That said, demand for a Golden Arches franchise is so competitive, the company does not offer E2 visa opportunities to foreign nationals.
Some other franchises are not available to a citizen of a foreign country for the same reason, but many thousands of franchise business opportunities await a motivated non residents.
Franchisees receive many benefits from their ownership. For example:
The extremely clear upfront idea of costs
Unless a franchisor is new to franchising, it has various costs nailed down through years of experience. The costs include the franchise purchase fee (the licensing fee or franchise fee), your minimum liquid capital requirements, expenses for leasing, staffing, and more, and franchise royalties (ongoing fees taken from your location's profits).
If you open a non-franchise business from scratch, you may wildly underestimate the money you need.
That is unlikely to happen with a franchise unless you choose the wrong one (there are a few, unfortunately).
Partnership and collaboration
Franchisors want to see you succeed. In that vein, they handle or assist with location sourcing, identifying competitors, marketing, using point-of-sale systems, hiring and training employees, and much more.
From day one (from before day one, really), your business has brand recognition, systems, and plans. Much of what you do entails following things that are already set up.
That can be especially useful if you would be brand-new to the United States.
Even the downside isn't a genuine disadvantage for many people: If you're a free thinker and want to do everything your way, it can feel stifling to follow a franchisor's rules. However, many folks prefer having processes already established.
The vast majority of franchisors are happy to work with foreign business owners seeking E-2 visas, EB-5s, and other types of opportunities.
Some franchisors prefer that owners have experience or background in the type of business, but many do not require relevant expertise.
You could own a burger joint, gym, hair salon, convenience store, pet hotel, car wash, or practically anything else without knowing anything about it before starting the process.
Certain franchisors allow semi-absentee ownership, too. That means once you have the franchise up and running, you may need to spend only 10 to 15 hours a week supervising operations.
That appeals to some entrepreneurs, while many prefer to be as continuously hands-on as possible.
Good chance of passing scrutiny to get you into the USA
Franchises have a higher success rate than ordinary businesses and a proven track record of employing American workers. A franchise business has a good chance of passing muster with immigration officials.
The process of starting a franchise business in the USA as a foreigner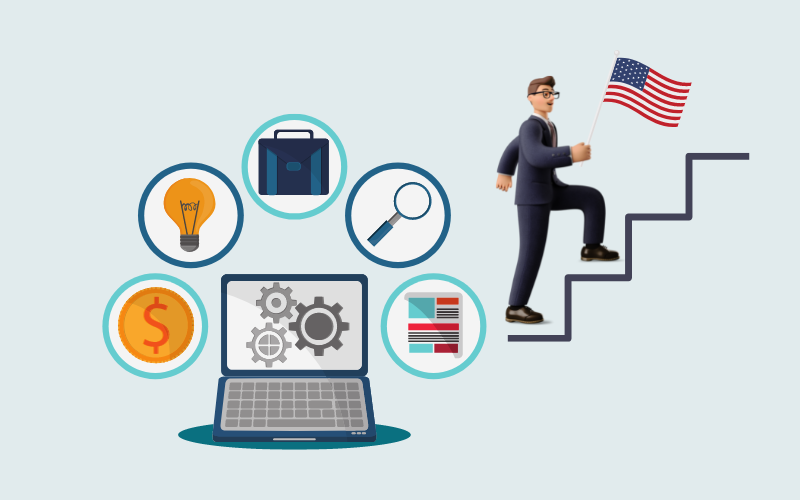 Starting a franchise business in the USA as a foreigner is simpler than in many other countries. It does require some time, though. First things first, make sure you're eligible.
1. Check your eligibility as a foreign investor in the US
To get an E-2 visa, you must be a national of a treaty country. Chances are you're covered, but make sure on the State Department's website. (Don't worry about the different E-1 or E-2 labels for each country. As long as a country is on the list, you should be able to get an E2 visa.)
Substantial investment
To qualify for the visa, you must make a substantial investment in the business. The lower the cost of starting the business, the higher your investment should be
Plan to have at least 50 percent ownership and a minimum investment of $100,000.
Some of your investment funds can come from third-party lenders, but U.S. Citizenship and Immigration Services officials want you to have plenty of skin in the game. Thus, about 75 percent of your substantial investment should be your direct funds.
This is a good time, if you have not already, to note your net worth, your cash and liquid assets, your work background, and other information.
Taking stock of your finances helps you find the right franchise match and start a business in America on the right foot.
For your E 2 visa interview, you also need proof of your income and ability to support yourself while in the United States.
2. Research eligible E2 visa businesses
You have a ton of possible franchises to choose from. That is true whether you prefer to buy an existing location or open a location from scratch.
A franchise coach or consultant is a good person to guide you through this process and match you with the right business in the US for your passions, needs, and situation. Adam Goldman works for free to you (clients) and gets paid by franchisors, so you don't need to stress about having to pay a consultant.
Once you've identified at least one business that piques your interest, get in touch (or have your consultant handle this, if applicable). If you're doing it solo, you typically fill out a contact form on the franchise website of the business.
To expedite the process and compare the experiences of working with different businesses, contact at least three instead of putting all of your eggs in one basket.
You may be surprised to see how responsive some companies are and how difficult others can be to work with.
3. Prepare your franchise business plan
You've narrowed your choices down to one, held serious talks with the franchisor, and feel confident about the chances of the venture working out.
The next move is to prepare two versions of a business plan. One is for yourself, any partners and investors, and the franchisor.
The other is for the E 2 visa application and is similar. However, it goes into more detail about your background and ability to get the business in the US running from day one.
It also clarifies that the business is not marginal. In other words, it won't support just yourself and your dependents. It'll create jobs in the American economy.
4. Apply for an E2 visa and schedule the interview
You can apply for the visa online. Do it early because it can be a few months before the embassy or consulate is able to interview you.
Apply in English. Get a native speaker to help if you're not confident in your level of fluency.
For the application, complete Form DS-160. It takes about 90 minutes.
Afterward, print the confirmation page and barcode. You'll need them for your interview.
The application also requires a photo (with the same requirements as U.S. passport photos) and a country-specific processing fee.
After applying, contact the U.S. embassy or consulate in your home country for a visa interview.
If you're in a different country at the moment, you can schedule the interview to take place in that country instead. However, your odds of approval go down.
5. Start building the business in the US if needed
Depending on the franchisor, you may need to commit funds and make an active investment before the visa interview and acceptance.
If you do this, discuss the "fine print" with the franchisor so you get your money back in case the visa application is rejected. Working with chains that have plenty of E-2 visa experience will be helpful.
Otherwise, open a business bank account in the US and put your substantial investment in it for escrow. The funds will be released once the visa application is approved.
Can a foreigner open a bank account in the US? Non-citizens can open a business bank account in the US with identification such as a foreign passport and driver's license. Many ID options are available. You do not need a Social Security number.
You'll discuss with your franchisor whether to get started with the business entity as a limited liability company (LLC), C Corp (C corporation), or other business entities.
S-Corporation probably does not apply in your case, as they are available only to citizens and permanent residents. Depending on the franchisor, you may have the freedom to choose the business structure.
Some advantages to starting a business in the U.S. incorporating as an LLC include safeguarding your assets from debt and lawsuits. You have a lot of personal liability protection from business decisions.
C Corporation has that advantage as well as less Internal Revenue Service (IRS) tax return involvement. Careful tax planning can bypass most of the double taxation disadvantages with C Corps.
You want to avoid a sole proprietorship because it puts your personal assets at risk.
Keep in mind you can start a US company or Limited Liability Companies (LLC) while you are not in the country. Registered agent service is easy to set up.
The registered agent service receives your correspondence and annual reports, notices, and services of process. The registered agent must have a physical location and physical address. The registered agent must be a resident of the state you do business in or be a corporation conducting business in the state.
To find a registered agent for your business entity, search online. Many businesses like to incorporate in Delaware because it does not impose income tax on corporations not doing business in the state.
When you set up the business entity, You must file for and receive an Employer Identification Number (EIN).
For US foreign entrepreneurs, this is not just to hire workers but to open a bank account, pay taxes, or often get a business license.
6. Attend the E2 visa interview for your US business
Bring a few documents: Your DS-160 confirmation page, interview confirmation, passport, a hard copy of the entire application package, and a credit card if you need to pay the reciprocity fee.
Security is probably going to be strict. Don't count on being allowed to take in laptops, backpacks, and large bags.
With all of this "fuss," you would expect non residents or non-citizen visa interviews to last hours. In reality, the interviews for starting a business can be as short as five or 30 minutes.
Officers ask very basic questions about the amount of capital you are investing in your foreign-owned company, the nature of your business, how many employees you'll hire, and the methods you used for your company personnel and revenue projections. They may inquire how you will hire employees or put out ads to find them.
Questions about whether you've run a similar small business or company in the US before are common. If you are new to starting a business, don't worry if you get asked this. Use your relevant skills and experience to explain why you are well-suited to run this business.
How to find a good location for your US business
Franchisors often help you choose a good location for your company in the US, but you initiate the process.
First, you pick between traditional and nontraditional locations. Traditional units tend to be bigger and require larger investments. They usually are standalone or freestanding.
Nontraditional locations are in a mall, airport, casino, college, hospital, gas station, or some other bigger building. They require less investment, but if you go nontraditional, be sure the location is large enough to employ more than three to five American workers.
It makes sense if you want a highly visible business. That means more customers. Visibility usually translates to, "more expensive," though. Rent and overhead could cost more, and in the end, you might not end up with more money from an extremely visible location.
Fortunately, many franchisors perform demographic studies that assess the cost of living, population density, future livability, quality of life, competitors, and other metrics. They have software programs that take a lot of guesswork out of business locations.
They help you identify the best place to put your small business, basically.
If your franchisor doesn't help much with location or you want to bring a location to the US company, one suggestion is to meet with real estate agents.
The ones that specialize in commercial real estate know about vacancy patterns, foot traffic, and other business-related concerns. Ask real estate agents and yourself questions such as these:
Are the nearby businesses competitors or complementary? (It is not a bad thing if you have a few competitors. They can boost your numbers.)

How much traffic (car, foot, other) goes by the US business on weekdays and weekends?

Is the location near a large site (or sites) such as a hospital or university with potential customers?
Hiring and training employees for your new US business
Most franchisors offer extensive guidance on hiring and training employees. They typically follow the business saying, "Hire for attitude, train for skills."
That is because front-line employees represent the franchise brand. Smiles and friendly words from public-facing employees cement the image of the brand in the minds of customers. Harsh words do too but to the opposite effect.
Most franchisors have job descriptions and titles set up already and a process for finding employees and having them apply. There might also be an internal job posting system. That nets you employees who want to relocate from another location.
If you ever have questions about how to train your employees, refer to your operating manual or ask the franchisor.
Franchisors have years of experience refining their hiring and training strategies and should be eager to pass on the knowledge to you.
Hiring and training employees do require a mix of legal compliance (you don't want to fall afoul of an extensive list of U.S. laws), the judgment of people's character, and the relevant background to train effectively.
Follow your franchisor's operating manual to the max when training your employees to be good at customer service. Your franchisor's processes work.
When you're choosing among many franchisors in the vetting stage (pre-visa application), ask about the education they give you in hiring and training employees. If the answers are vague or too short, that's a red flag. Beware.
Things you should do once your franchise is up and running
After you know how to start a business in the US and your franchise venture is up and running. That's incredible. Congratulations!
The work never stops, though. Here are things to focus on at this stage of owning a business.
1. Keep following the franchisor's systems and processes
Might as well state the obvious. You're required to follow the franchisor's guidelines, so keep doing it. Do not modify products, change services, adjust hours, or do anything else you are not supposed to.
If you have questions or concerns, act quickly to communicate them. Don't let problems or frustrations build up until they (or you) boil over.
Even if everything is smooth sailing, keep in touch with your franchisor and fellow franchisees. Attend meetings, training, conferences, and conventions, and take advantage of the franchise owners association. The association is also called the owner's advisory committee or council (OAC).
2. Prioritize keeping your workers happy and productive
A rotating door of employees is bad for morale and eats into your time because of constant hiring and managing. So, spend a good chunk of time ensuring a productive work environment for the staff you have.
Treat them all equally without showing favoritism. Switch up the tedious, boring jobs so one or two people aren't always stuck with them.
Emphasize respectful treatment among the employees. Just as you treat them respectfully they should treat one another that way.
Train and retrain your employees regularly, and let your franchisor know about new training needs.
3. Provide great customer service
Let customers know you value them. Keep in mind that great customer service gets the word out about your business and encourages repeat visits.
4. Involve yourself and the business in the community
For example, you could host weekly or monthly events, invite school groups in for tours, and sponsor a recreational team.
5. Make time for yourself, family, and friends
If you are happy and well-rested, you'll be a better boss and more productive at work.
6. Keep on top of visa requirements
You can renew your E-2 visas an unlimited number of times as a non-resident as long as you satisfy visa requirements.
7. Set professional goals such as becoming the franchisor's top producer in the city or region
Motivators help you excel, and on another level, your franchisor may have incentives for top performers.
Your franchisor may offer mentorship, educational, coaching, and speaking opportunities for you to improve your leadership skills. Take advantage of them to become an even more effective leader.
9. Consider multi-unit ownership
If your business location is doing well, you love the work, and have the finances for it, you could expand the business.
You earn more money with more units and get business loans more easily if you have bank accounts with a good track record, even as a non-resident.
Many franchisors offer incentives for multi-unit ownership. The cost of opening additional units is less than it is for opening that first unit. You could even end up with a string of franchise locations.
How to start a business in USA for foreigners? The answer is pretty straightforward if you go the franchise route and have enough money for a "substantial investment."
That's because the franchisor has its systems and processes in place. You just have to follow them.
No worrying about coming up with your own processes, brand-new marketing strategy, employee job descriptions, and much more. Many foreign-owned US businesses thrive.
The decisions involved include the franchisor you choose to work with, whether you opt for a traditional or nontraditional location, and if you set up the business as a limited liability company LLC or C Corp.
Take the time to make your E2 visa business plan shine. That could be what makes all the difference in your chances to get venture capital and start a business in the U.S.
Explain you're relevant background. Lay out where your substantial investment comes from and why it shows significant ownership. 
You don't have to go it alone, either. Get in touch with franchise coach Adam Goldman for a free consultation and advocacy as you identify opportunities for a business in the USA and work with potential franchisors.
---