Are you an investor on the hunt for a one-way ticket to America? An E2 visa business venture could be your golden ticket.
Whether it's creating a franchise consulting firm or obtaining an already established company, you'll be able to move yourself and any members of staff with ease.
However, firstly there are several requirements that must come into fruition in order for the visa application and investment process to smooth over: eligibility is key!
Are you a foreign investor looking for an E2 visa? If so, we've got the perfect list of 20 opportunities that qualify.
But first, let's take a look at what constitutes an E-2 visa and which types of businesses have the highest likelihood to be accepted.
If you're a foreign national wishing to invest in the United States, then an E2 Visa – also known as a Treaty Investor Visa – may be right for you.
This type of nonimmigrant visa allows individuals to enter the US and devote their finances to establishing or running a business based upon treaty relations with America. To qualify,
Generally, a substantial investment requires at least $100,000. Additionally, foreign entrepreneurs must invest in existing businesses that employ American citizens and create job opportunities for them; preferably three or more positions.
The sole purpose of the enterprise should not be to serve only foreign nationals but also to provide employment chances for United States residents as well.
What Businesses are Best for E2?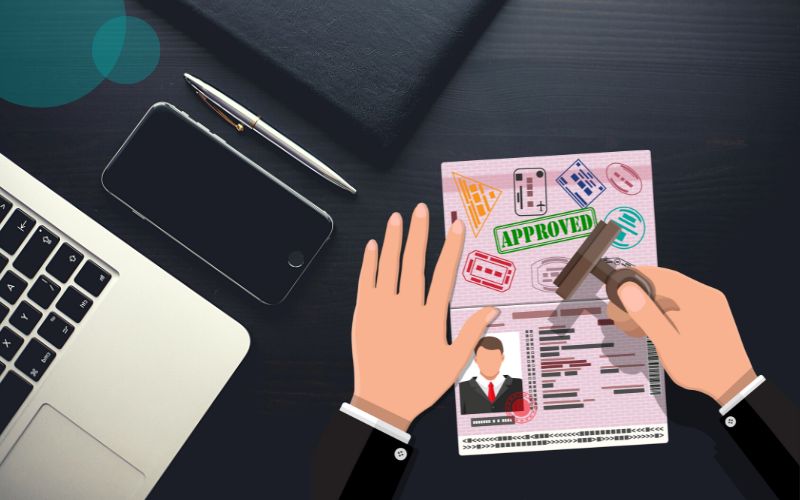 E2 visa holders typically launch one of four types of businesses: franchises, consultancies or consulting firms, multinational corporations, and already-existing ventures.
Investors long for the freedom to live anywhere they choose and operate a business that ignites their passion. Franchises are an ideal investment opportunity because of their ability to be adaptable, along with having pre-established systems in place.
From mall kiosks and restaurants to gyms, salons, convenience stores, and more – there is practically no limit on what kind of franchise you can start from urban settings all the way out into rural America!
Franchisors offer an established system of guidance and resources that provide clarity on the business plan. Investors can therefore rest assured that they know precisely what their investment entails.
Moreover, many franchisors also go above and beyond by providing training programs as well as a support network to ensure applicants feel connected from day one.
Multinational Corporations
Multinational corporations may opt for either L visas or E2 visas to hire employees. However, the efficient choice is an E2 visa if the employee has shared nationality with the majority owner of the corporation.
This requires a treaty country that allows immigration in order to proceed. An executive, manager, or highly skilled worker will be hired as per these types of petitions.
The fundamental skills and knowledge required for a job are based on:
the individual's expertise,
their responsibilities,
as well as the salary offered.
Multinational firms must establish that individuals in America cannot be taught to carry out exactly the same role in the time frame allotted by a visa.
An E2 visa consultancy offers the advantage of low ongoing overhead costs. By utilizing their expertise in disciplines such as software development, leadership, or risk management, investors are able to provide valuable assistance and resources for businesses and professionals around the world.
Crafting an impeccable business plan when applying for a treaty investor visa is key and must demonstrate that the applicant has potential customers eager to collaborate with them from the get-go.
Furthermore, this type of visa grants its holder flexibility in terms of where they can reside in said country.
To ensure a successful startup, investors should have at least $50,000 to allocate for their consulting business. This capital can be used for
renting out commercial space,
designing an eye-catching website,
investing in marketing techniques
and employing dedicated staff members
as well as other necessary expenses.
Purchase Existing Business
Investing in an existing business, such as a franchise or standalone enterprise, and applying for the E2 visa is a great way to live anywhere and have control over your own business. This option affords investors:
access to the history of their investment,
associated costs of operation,
and potential investments
before submitting their application for treaty investor status. With this information at hand they are sure to impress any reviewing official!
For the best results in getting the E2 visa approved, investors should choose a business with at least three full-time employees. Otherwise, the government could say that it is not a substantial investment and deny the application.
20 Best Franchise Opportunities For E2 Visa
For investors looking to pursue their passions and fulfill an E2 visa requirement, the franchises listed below are perfect because they guarantee that investments must not be marginal or substantial.
This ensures these businesses remain busy enough to make sure plenty of American workers have jobs. Whether you're passionate about ice cream, cleaning, fitness, or something else entirely – one of these franchises is right for you!
1. Papa John's Franchise Businesses
Papa John's, the fourth-largest pizza place in America, is always bustling with patrons and can use some extra hands.
Not only do they offer delivery and takeout but also take pride in their quality ingredients.
And that's why Papa John's works hard to provide franchisees with comprehensive training and assistance – they understand success breeds more success!
Franchise owners have the power to choose between managing their pizzeria hands-on or taking a more relaxed approach.
It all started in 1984 when John Schnatter established Papa John's Pizza from his closet – and franchising swiftly followed two years later!
Now, it has extended its reach throughout 45 international countries and territories with over 5,000+ restaurants around the world!
2. Cold Stone Creamery Franchise Business
Cold Stone Creamery has become a household name in the United States and is highly regarded for its richness of ice cream flavors, as well as its unforgettable "10-minute vacation".
If you're an EB-5 investor that loves customer service or if your idea of fun involves being innovative and imaginative – this venture could be ideal for you!
The staff at Cold Stone Creamery is passionate about bringing joy to their customers; with singing, dancing, and encouraging smiles, they strive to make sure everyone leaves feeling so elated that they can't wait to return.
To address the seasonal nature of an ice cream business located in cool climates, this franchise offers fun, variety, and engagement to its patrons.
Moreover, it has co-branded locations with other stores to attract more customers. The company strongly requests that applicants are hands-on owners so they can ensure maximum customer satisfaction who come looking for freshly made ice cream flavors that they can customize with brownies, candy, and a lot more!
Since its start in 1994, the Cold Stone Creamery franchise has become a global success story with stores spanning 20 countries. In 2007, Kahala Brands took over as proprietor and now boasts ownership of numerous flourishing franchises throughout the world.
3. Cinnabon Franchise Business
Cinnabon offers two types of franchises:
express locations
and full-bakery locations.
This choice gives E2 investors more flexibility in how they use their money; they can open (or buy) bakeries in malls, rest stops, airports, casinos, gas stations, transit stations, or standalone stores; locations with high foot traffic are good and semi-absentee ownership is fine.
Cinnabon prides itself on having perfected the fresh-baked cinnamon roll, staying busy, and ensuring that franchise investors don't have a problem satisfying the American worker requirement.
Beyond this, Focus Brands (the franchisor) provides adequate consulting and training opportunities to its franchisees.
Furthermore, special assistance is offered when it comes to organizing grand openings. Focus Brands owns a multitude of popular brands such as Cinnabon, Auntie Anne's, Moe's Southwest Grill, and Schlotzsky's – making it undoubtedly the leading franchising company in the market today.
In 1985, the very first Cinnabon opened its doors in Federal Way, Washington. The year after saw the launch of their first franchise location at King of Prussia shopping mall near Philadelphia.
4. Papa Murphy's Franchise
Papa Murphy's has achieved worldwide success, being the 5th largest pizza chain in the world and the number 1 take-and-bake chain in America.
Customers simply have to choose their desired pizzas from a variety of options before baking them at home. This model is distinct from its namesake – Papa John's (listed as #1 on this list).
Papa Murphy's offers an excellent E-2 franchise business opportunity for investors who are seeking a simpler venture. There is no need to worry about ovens, night shifts or dine-in services.
All the ingredients used in the pizzas are freshly prepared daily! On top of that, there will never be any lack of customers – this restaurant has seen consistent success throughout its years.
Papa Murphy's, originally called Papa Aldo's Pizza until 1995 when it merged with Murphy's Pizza to form the company we know today, has been owned by MTY Food Group since 2019.
Unlike its competitor, Papa John's, which permits absentee ownership of franchises; however, all locations of Papa Murphy's must be managed in person.
5. Chick-fil-A Franchise Business
Chick-fil-A is renowned for their fast-food chicken and has earned the distinction of being America's second-largest franchise. This chain not only provides delicious meals but also closes on Sundays to afford employees time off to attend religious services if they choose.
On average, 12 diligent staff members are manning each shift at any given location – ready with a smile and hot plate in hand!
Treaty investors can always depend on the American workers' requirements being met. Most appreciate that they have one day of rest each week. Chick-fil-A's family atmosphere resonates with several individuals seeking investment opportunities, which makes it a great option for treaty investors.
Establishing a franchise with Chick-fil-A requires extensive preparation and they provide continuous support to ensure success. Investors can expect startup costs that are modest, yet will be required to pay higher royalties than other businesses.
The Truett Cathy family carries on the legacy of the founder by being actively hands-on in running the business. However, it is also known for its unique marketing initiatives using cows as spokespeople promoting chicken consumption!
6. Wing It On! Franchise Business
Wing It On offers premium, mouthwatering chicken wings in an array of flavors that will tantalize your taste buds. Plus, try the delectable sandwiches, boneless tenders, and fries for a truly unforgettable experience.
Online ordering as well as their mobile app and third-party delivery are all popular facets of this business model in the US which reduces labor costs for franchisees substantially! With takeout or delivery making up 85% to 90% of its revenue margin, little space is needed just for dine-in purposes.
Franchisees have the option of selecting either a restaurant or food truck model, with many even opting for both.
The food truck route is more cost-effective and has less overhead than its counterpart, plus it gives you the ability to craft menus around regional favorites in order to maximize demand.
With reduced startup costs and an efficient footprint, this could be your ticket to success!
Our training program consists of one week spent in North Carolina to learn the details of running a store, as well as twenty hours dedicated to financial literacy and business management. Also included is two weeks of launch support at your location if you choose semi-absentee ownership. With these tools, launching your franchise will be easier than ever!
E2 Visa Cleaning and Home Service Franchises
7. The Maids franchise Business
For E2 investors who are looking for a hands-off approach, The Maids is the perfect opportunity. This leading residential cleaning company in the United States offers tremendous growth potential, with most owners owning multiple franchises.
Every unit requires about 20 employees – satisfying all requirements of an E2 visa mandate and beyond. Of course, if you prefer to be more involved in running your business, that option is also available!
Year after year, this E 2 business ranks in the top 100 franchises according to Entrepreneur Magazine due to its comprehensive support systems, cutting-edge technology, and training programs. On top of all that, they also give franchisees access to a steady stream of recurring clients so they can gain financial security.
This franchise offers an unparalleled 22-Step Cleaning Process to make sure clients' homes are spotless. Teams arrive at properties in signature yellow cars and go through a meticulous procedure that covers living rooms, bathrooms, and more.
Even if you don't have any prior experience in the cleaning industry, this opportunity is accessible for everyone: people from all walks of life can become successful franchisees!
8. Chem-Dry Franchise Business
Year founded: 1977
Franchise Business Units: More than 2,500
With economical costs and the opportunity for multi-unit ownership, Chem-Dry is a carpet cleaning franchise unlike any other. Not only does it offer excellent services like upholstery cleaning and pet urine odor removal.
However, it also encourages hands-on owners who are present in their businesses. As the largest carpet cleaning franchise on an international level, Chem-Dry provides an unparalleled opportunity to gain success in your entrepreneurial endeavors!
When it comes to Chem-Dry franchisees, the "Chem" in their name is nothing short of misleading! They use specialized cleaning solutions that are completely safe for pets and children, as well as carpets.
Not only this but investing in a franchise from them has costs that are quite low – plus training takes place both online and through one-week sessions located either in Nashville or Logan (Utah).
The best part? This type of business requires hands-on ownership instead of passive/absentee ones.
With the company's comprehensive aid for training, advertising, and marketing services – especially during the initial year – franchisees are equipped with a website that is SEO-optimized and possesses 24/7 live chat features.
Furthermore, due to its widespread application in constructing homes across numerous countries, this business is more or less 'recession-proof'.
9. All Dry Franchise Business
All Dry is the perfect opportunity for entrepreneurs and investors of all kinds. Our team aids in property repair following inclement weather and catastrophes, leading to enormous success with our franchise model – particularly amongst those who hold an E2 investor visa!
This low-cost venture grants you quick access to launch your business, provides operational ease that makes running your own franchise a breeze, plus it allows foreign owners to join us too. Even semi-absentee ownership is possible!
As a favorable benefit, this endeavor is immune to economic recessions. Insurers typically finance the operations being conducted and remain steadfast during market downturns. The franchise deals with…
sewage cleanup,
odor removal,
mold elimination and restoration following fire, smoke, or water damage as well as storm destruction.
Corporate provides 24/7 coaching plus 30 days of new-franchisee training in addition to other teaching and growth opportunities. All Dry has been franchising since 2020 with great success!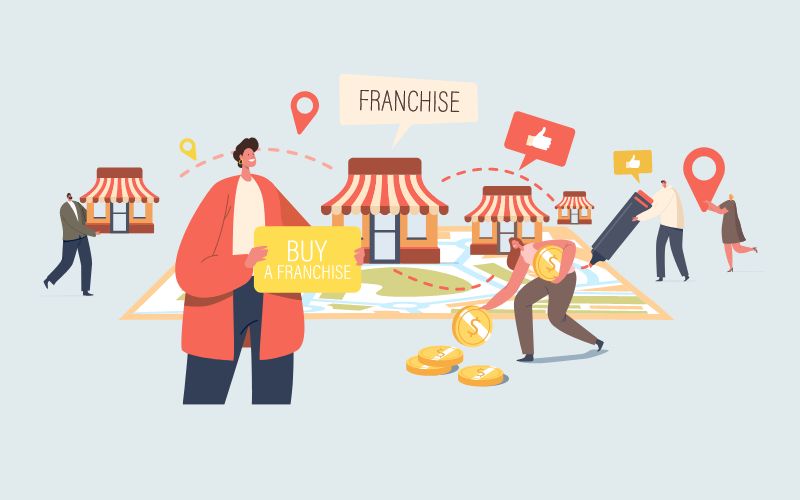 10. College HUNKS Hauling Junk and Moving
College HUNKS Hauling Junk can be an extraordinary investment opportunity for those passionate about customer service, technology, and making a difference.
More than 70 percent of the items they haul are recycled or donated – proving that Americans do indeed have a lot of junk to get rid of!
With their efficient hauling services, franchisees not only gain financial rewards but also experience great satisfaction in giving back to the community.
Let's clear up the name: HUNKS stands for Honest, Uniformed, Nice, Knowledgeable, and Service. This franchise continuously leads the junk-hauling industry with no competition to match its services.
Its reputation is built on dependable support from its franchises, low startup costs along with immense growth potential making it a safe bet financially. Semi-absentee ownership is not possible.
Experience the phenomenon of this franchise and their distinctive marketing, which has seen them attain renown on national TV, including "Shark Tank".
Thanks to tried-and-true systems that produce ecstatic customers who spread word of mouth about the brand, success is easy to find.
The trucks are painted a vibrant orange hue, with professionally attired workers ready for action.
At its core lies an ethos of teamwork; owners benefit from a comprehensive marketing playbook guiding them through finding customers and extending their reach in every market they operate in.
11. Koala Insulation Frac
With its organized and punctual technicians, Koala Insulation has the potential to be a highly scalable business that offers an outstanding work-life balance.
Unlike many of its competitors, Koala works hard to ensure appointments are followed up with timely service.
With minimal investment costs and no need for leasing or renting office space, the business model is straightforward yet provides ample room to meet E2 visa requirements.
In 2020, this company began franchising with semi-absentee ownership as a possibility. The franchisor does not only provide comprehensive training along with consistent support but also advertises through cost-efficient insulation distribution channels while aiding in recruiting and staffing efforts.
It's clear that insulation services are in demand: 90 percent of U.S. single-family homes lack proper insulation and 26 million homeowners conduct home improvement projects annually, according to Koala research.
E2 Visa Automotive Franchises
Mr. Transmission is the second-largest transmission franchise in the United States. Franchisees specialize in transmission and drive train maintenance repair, rebuild, and replacement. Experience in automobiles is not necessary for owners.
Investors can choose to co-brand their franchise with Milex Complete Auto Care, which focuses on high-volume general car repair. Mr. Tramission is lower volume but its services cost more. Owning both enables franchisees to have a bigger built-in customer base and to serve as a one-stop source for customers.
Since 1976, Mr. Transmission has been offering franchises to entrepreneurs interested in the business. Franchise owners can expect five weeks of immersing training and ongoing operational and marketing assistance from the Moran Family of Brands.
With over sixty years of reliable history and quality service, Mr. Transmission deserves your trust when it comes to establishing yourself in the community. 
Not only does their level of excellence draw customers back for more, but you won't have to worry about draining your wallet too much with minimal inventory requirements — even during hard economic times! 
Allow Mr. Transmission to demonstrate why they are one of the leading businesses around today by experiencing all that they offer from comprehensive services and dependability!
Pronto Wash makes the E2 visa application process simpler for immigrants with its expedited investor visa program, 42 active owners that already hold visas, a financially secure investment opportunity, and an impressive resale worth.
This E2 visa franchise provides a rapidly-expanding car washing and detailing service throughout the United States.
Our employees will come to your home or office while you're busy working, enjoying some entertainment, dining out, or shopping so that your vehicle can be serviced promptly. Additionally, our waterless cleaning method is eco-friendly!
Pronto Wash is dedicated to providing franchise opportunities in five primary areas:
fixed facility,
mobile,
B2B,
fleet and executive.
Fixed facilities are typically located in crowded places like malls or airports – ideal spots for a business venture such as car washing. However, if you're looking to be a semi-absentee owner then this might not be the right fit for you!
Mobile franchises have the most affordable startup costs and customers can arrange for service ahead of time, no matter where they are.
In addition to a franchise license that grants access to two vehicles and an area reaching up to 100,000 individuals, comprehensive training is included in this business model. This includes
support for location selection,
staffing necessities,
bookkeeping requirements
as well as state law compliance measures.
All essential elements are necessary for day-to-day operations such as sales expansion and more!
E2 Visa Insurance Franchises
Estrella Insurance provides top-notch property and casualty insurance in a variety of U.S. states.
With an emphasis on building longstanding connections with respected insurers as well as marketing and advertising to both English and Spanish-speaking audiences.
Their priority is providing accessible coverage for people across the United States, whether it's in Florida, California, Arizona, Colorado Texas New York, or Illinois – all areas where multiple languages are spoken!
Through their partnership with over 160 insurance carriers, there are ample options available no matter one's individual circumstances.
Estrella Insurance has been franchising since 2008 and offers its franchisees 8 weeks of thorough training as well as ongoing mentorship.
Financing options are available, in addition to multi-unit and area development prospects. With the United States' 80% adult auto insurance rate, there is a large potential for growth; premiums that include auto, home, and business amount to around $640 billion annually!
Plus, absentee ownership isn't recommended with this company – you can be assured of direct involvement from day one.
Fiesta Franchises specialize in providing car insurance and tax preparation to the Hispanic and Latino communities. Their two-service platform ensures a steady flow of business all year round, making it virtually recession-proof.
Car insurance is an especially wise route for them as people will always need this service regardless of economic conditions. To provide their customers with reliable coverage, they partner with leading national insurers.
As one of the participants in an $18 billion-a-year industry, Fiesta provides tax preparation services. Notably, Latinx taxpayers are growing at six times the rate as other demographics each year; this puts Fiesta at the forefront for those looking to capitalize on this lucrative market.
Franchisees receive exhaustive training in all areas related to insurance sales and paperwork is taken care of seamlessly by their team.
For bilingual foreign investors seeking cost-effective opportunities with no absentee ownership allowed, then Fiesta could be just what they've been searching for!
E2 Visa Pet Service Franchises
Year founded: 2012
Units: 7
D.O.G. Hotels franchises are ideal for dog lovers who get along well with people. This type of franchise relies heavily on customer service to succeed, so owners should be good leaders.
D.O.G. Hotels locations offer three primary services: daycare, overnight stays, and grooming. Daycare spaces feature both indoor and outdoor play areas, and the franchise makes a point to pamper pets, no matter which of the three services they visit for.
Pet care is a big industry in the United States. D.O.G. Hotels has been franchising since 2012 and is in many South Florida locations. Exclusive territories are available.
Plenty of on-the-job and classroom training is provided. Ongoing support is offered for field operations, software, marketing, social media, SEO, email marketing, and loyalty programs/loyalty apps, among other things. Each location needs at least 10 employees.
Fetch! Pet Care offers services such as puppy sitting, dog walking, pet sitting, overnight care, pet taxi, and pet medical administration. All pet sitters and dog walkers pass background checks and undergo in-depth interviews.
This franchise is the largest pet-sitting and dog-walking franchise in the United States. Passive or semi-absentee ownership is a definite option.
Total investment costs are pretty low, and startup is fast. The parent company offers managed services for customer service and scheduling, which allow franchisees to focus on expanding their team and local presence. The pet industry enjoys sales of more than $70 billion and is one of the largest in the United States.
Training includes four days in person near the Detroit area and up to two days of training in the franchisee's market. Ongoing support includes coaching calls, an online training platform, a 24/7 support line, and a support intranet. Semi-absentee ownership is fine.
E2 Visa Fitness Industry Franchises
Year founded: 2001
Units: More than 3,000
Purchasing an existing Anytime Fitness franchise is a very rewarding option if you are looking to maximize your profits. While franchising a new location can be successful, it will take longer to establish your membership base.
For those wishing for more passive ownership options, semi-absentee ownership of the franchise is possible with good returns on investment over time.
Owners of Anytime Fitness franchises have increased scheduling flexibility due to the gyms being open around the clock, and many individuals opt for owning several clubs. What's more, Anyone
Fitness offers some of the most budget-friendly franchise fees in comparison with other fitness brands; investors can either go for traditional establishments or something less expensive like an Express model.
Investors receive a full week of comprehensive training in Minnesota to ensure job readiness.
Additionally, there is the opportunity for volume buying power for equipment, as well as extensive marketing and individualized support such as digital optimization services and detailed analysis of essential market components like competition levels and demographic information specific to their chosen territory.
Year founded: 2015
Franchise Business Units: More than 250
Stretching is at the very heart of StretchLab and its mission to provide holistic wellness. Our studios offer personalized stretching sessions and group classes for people of all ages and fitness levels. Through natural approaches, we help improve mobility, flexibility, and range of motion while reducing the risk of injury – making movement more enjoyable!
Expert Flexologists aid members with their stretches to help them reach their flexibility goals beyond what they can do on their own. StretchLab harnesses the convenience of e-commerce and allows absentee ownership; customers pay online for premium fitness services without having to use any intricate machinery.
StretchLab's low cost of entry and speedy deployment make it an attractive option for investors, particularly those who value community-driven investments. Our extensive franchisor support includes:
site selection,
lease negotiation,
construction help,
staff recruitment guidance,
sales process advice
and marketing assistance.
All with continuous training and one-on-one mentorship. With plenty of room to scale up and expand the business opportunities available with this franchise are limitless – as there is no direct competitor in the same space!
Year founded: 2017
Units: Less than 20
Owning a Body20 franchise comes with plentiful advantages. You'll enjoy minimal startup costs for the fitness industry, small space needs, recurring revenue through subscriptions, and few personnel requirements (but more than enough to meet investor visa obligations).
Plus, you can choose passive or semi-absentee ownership.
Franchisees at Body20 receive 24 hours of classroom training and 40 hours of on-the-job preparation, in addition to having the advantage of owning exclusive territories.
At Body20, we are reinventing how people stay fit: our electro-muscle stimulation smart suits allow for just 20 minutes a week to achieve over 150 times more contractions than would be accomplished from ordinary workouts – no weights or gym equipment required!
Body20 is the ideal choice for clients searching to attain their health and fitness goals. Our strength and cardio sessions are tailored especially to every individual's body type and current level of physical activity.
We guarantee that you'll make the most out of your workouts, as they offer up to 90% usage of your talented muscle power!
Not only will this help develop balance in muscles, but it also enhances athletic performance, and reduces fat percentage levels; not forgetting to relieve tension or knots too! With so many advantages on offer, you can trust us when we say: just try our classes once – we promise a positive difference from day one!
E2 visa opportunities include consultancies and franchises in practically all sectors. Investors can also purchase existing businesses. Multinational corporations can use the E 2 visas to bring especially skilled employees to the United States.
With an E2 investor visa, entrepreneurs and their families will have the opportunity to live the American dream and operate their own businesses.
With so many options to choose from, it is essential that you take the time to find a perfect match for your investment. This way, you can be sure that your hard-earned money isn't wasted and that your immigration process goes as smoothly as possible. 
Fortunately, franchise consultants are available to foreign investors who need assistance in their search for the ideal business venture. These consultants act as coaches and confidants throughout this entire journey – guiding entrepreneurs through all of its complexities while encouraging them along the way!
Let Franchise Consultant Adam Goldman provide you with invaluable assistance and advice on your journey to business success needs – for no cost! With his expertise in franchising, he will take into account your interests and skills to guide you through each step. 
Best of all, if at any point you decide to invest in a franchise, the franchisor pays him; not yourself. So don't hesitate – to contact Adam today so that free consultation can begin!
---