Going from an E2 visa to green card is possible. Many foreign nationals do it, although it takes time and patience. One key distinction as you go from an E2 visa to a green card is that an E2 visa is a non-immigrant visa.
A green card is an immigrant visa, and you have several ways to convert.
The potential approaches include a national interest waiver, an EB-5 opportunity with a regional center, your employer undergoing the labor certification process and sponsoring you, and marriage to a citizen or someone with lawful permanent residence.
An E2 visa is a non-immigrant visa.
It allows visa-holder investors, entrepreneurs, and others to move to the United States to start a business, invest in it, and work for it. The requirements for these foreign nationals include the following.
Being a national of a treaty country

Investing a substantial amount of capital into the business

Having significant ownership of the business (preferably at least 50%)

Developing and directing the business investment

Starting a new business or consultancy or purchasing an existing business
An E-2 treaty investor can bring his or her spouse and children under 21 to the United States.
Your E-2 can be renewed as many times as necessary as long as the business investment remains operational and you and the business meet visa requirements.
With unlimited renewals, an E-2 visa holder could remain in the United States for the rest of his or her life.
The E-2 visa holder would not have a green card, though.
Benefits of getting your E2 visa converted to a green card
Many benefits come with an adjustment of status from E2 visa holder to green card holder. Here are a few of the top advantages for foreign nationals.
1. Become a permanent resident of the United States
The E2 visa holder to green card conversion can open the door for foreign investors and entrepreneurs to take up permanent residence in the United States.
With lawful permanent residence, green card visa holders can travel and live anywhere within the United States.
2. No need to keep renewing E2 visas
You are required to renew an E2 visa every two years. The process can become quite costly and time-consuming.
However, if your E2 visa can lead to a green card, you no longer need to worry about renewing so frequently.
In fact, you may never need to renew a green card at all, as is the case with some cards.
Other green cards do come with two-year conditions to start with that you must get removed and/or require that holder renew every 10 years.
3. Access to all the benefits that come with having a green card
With an E2 visa to green card conversion, you can take advantage of all the benefits that come with lawful permanent residence.
You are eligible to receive federal benefits such as Social Security, Medicare, government-sponsored financial aid, and in-state resident tuition at many colleges and universities.
Green card visa holders enjoy a vast array of job opportunities, including government work and jobs mandating security clearance.
These types of access and benefits are important for anyone wanting long-term stability.
4. Easier pathway to becoming a US citizen
Once you have your E2 visa converted to a green card, you can become a U.S. citizen much more easily than if you were on an E2 visa.
An E2 visa offers no direct path to citizenship, but a green card does.
In fact, the most common pathway to U.S. citizenship is being a lawful and permanent resident for a minimum of five years.
5. Ability to bring family members to the United States
When you are a green card holder, you may request that a family member such as your husband or wife, unmarried children under 21, or unmarried children of any age immigrate as permanent residents, too.
These family members can come as well when you have an E2 visa under their own E 2 visa. However, they have limited flexibility.
Your children cannot work, for example, although your spouse can.
Once your children turn 21, they have to find another way to stay in the United States since they are no longer covered under your E 2.
6. More flexibility in where you live and what you do.
Maybe you are ready to sell the business that helped you get into the United States or pursue other opportunities.
Under an E-2 visa, you could not really do that and stay in the country. You can under a green card.
You can do any type of work (or retire) and live in any state.
You can also leave and re-enter the United States easily as long as you come back within 12 months of leaving.
What are the requirements?
As you might have imagined, going from an E2 visa to green card is not always the most straightforward process.
It is doable, of course. Here's a look at the requirements and how to convert that E2 visa to green card.
Choose an immigrant classification since E 2 status is non-immigrant.

Consult with an immigration attorney.

Apply for an immigrant visa.

Get your green card and permanent residence.
Choose an immigrant classification
An E-2 visa is not an immigrant visa, while a green card is. To get a green card, you must apply for immigrant classification such as an EB 5 visa.
EB 5 visa
EB 5 visa could be a great option if you want to continue investing and working in the business world.
Your investment can be $900,000 if the US business is in a targeted employment area or $1.8 million if not in a targeted employment area. TEAs are rural areas or areas with high unemployment.
Fortunately, the capital in your E-2 existing business could go toward the EB 5 business if you redirect it to the new venture.
Suppose you have $200,000 invested in the E-2 business. That amount could count toward the EB 5 investment amount.
If you're looking at investing $900,000, you only need to come up with a "new" $700,000, not $900,000.
You could look into an EB 5 regional center. The centers are public and private economic units that U.S. officials have designated for participation in the Immigrant Investor Programs.
An EB 5 US business must create or preserve at least 10 U.S. permanent full-time jobs for qualified U.S. workers.
Company-sponsored green card
You could get employer sponsorship to convert your E-2 non-immigrant visa to a green card.
Either you or your spouse's employer could do the sponsoring, and both of you would be covered.
Luckily, E-2 visas allow spouses to work. Your spouse could focus from the beginning of your E2 visa experience on finding immigrant- and sponsor-friendly companies to work for.
US employer sponsorship goes like this: The company gets PERM labor certification from the Department of Labor, you get approved for an EB 2 or EB 3 visa, and you receive an adjustment of status and your green card.
EB 2 visas apply to people with exceptional abilities, advanced degrees, or eligibility under the national interest waiver (more on the latter soon).
EB 3 visas apply to skilled workers, professional employees, or similar workers. You may need a master's degree or above to qualify.
National interest waiver
This subcategory of the EB 2 visa is for advanced degree professionals or people with exceptional abilities.
With this waiver, you do not have to go through PERM labor certification or get a certificate from an employer.
Rather, you must show that you are well-positioned to advance in your field.
The field must hold the merit and national importance, and you must show it is in the U.S. national interest to waive the job offer requirement.
Extraordinary abilities required for EB1 visa
If you have extremely special abilities in business, arts, sciences, education, or athletics, you could pursue the EB1A extraordinary ability visa.
You can apply for the visa yourself without needing a job offer or employer sponsor.
You must prove your ability, show how you would substantially enhance the United States, and demonstrate intent to work in the United States in your field.
You must be in a small top percentage of people in your field to show extraordinary ability.
Examples include having received national or international recognition such as a Grammy or Nobel Prize.
Employment-based EB-1B and EB-1C Visas
The bar is lower for EB-1B (for professors and researchers) and EB-1C visas (for managers and executives).
No labor certification is required for the EB1B, but you do need to have an employer petition on your behalf.
You must have at least three years of outstanding experience in your field and work as a professor or researcher for a private employer, higher education institute, or university.
For the EB-1C, your employer must have been in business for at least one year. Labor certification is not necessary.
The employer petitions on your behalf, making you the beneficiary.
Marriage-based green card
You can get a green card if you marry a US citizen or U.S. lawful permanent resident.
Suppose you are single when you move under your E 2 visa and you meet someone and fall in love.
You could get married and receive a green card to replace your E 2 visa. The marriage must be legitimate and lawful.
Consult with an Immigration Attorney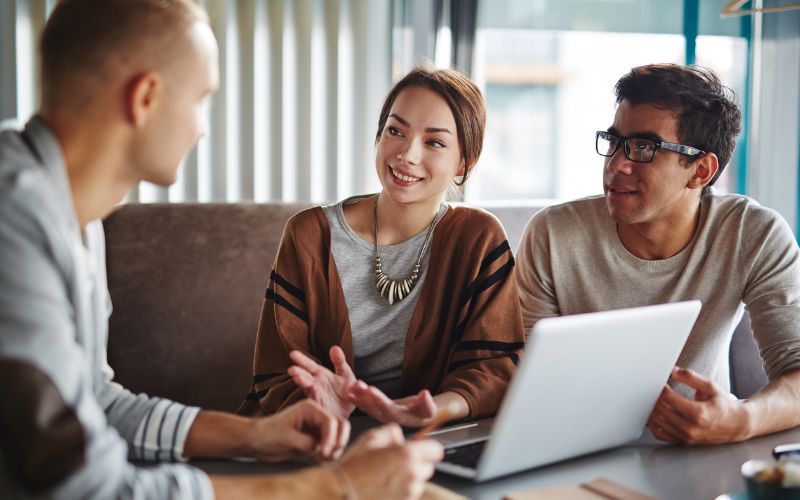 The E2 visa to green card conversion process can be complex.
That is especially true since you are applying for permanent residence when you currently have an E-2 visa non-immigrant status.
Consulting with an immigration attorney is a good idea to ensure the classification you have chosen makes sense. For example, it is truly difficult to qualify for the national interest waiver or for the extraordinary ability visa. If you have chosen either route, an attorney might have more practical routes in mind.
Attorneys identify potential roadblocks as you go from visa to green card, know innately the timeframe, process, and paperwork involved, and greatly increase the odds of adjustment of status approval.
Apply for the immigrant visa
Typically, your attorney or employer sponsorship office handles the actual application process.
The forms and requirements differ based on the immigrant classification.
Get your green card and permanent residence
Your efforts should eventually lead to a green card and permanent residence.
The timeframe for a visa to a green card depends on the classification.
A marriage-based one takes about a year, while family-based cards can take as little as seven months or more than three years.
An EB 5 visa can take several years, too, and the number of EB 5s given out each year is capped. The quickest route is the EB1 for exceptional abilities.
Follow any conditions set for visa holders when you get your green card.
For instance, you may be a conditional permanent resident at the beginning. That means you have two years to remove the conditions.
This is common in cases of marriage when you've been married less than two years from the date you became a permanent resident.
It is also typical in cases of entrepreneurs and investors.
When you file to have your investor conditions removed, you answer questions about any recent changes in your criminal history.
You provide details about the amount of capital you have invested, the number of jobs for U.S. workers your entity has created, and other information.
An E2 visa gets you to live in the United States as an entrepreneur-investor.
While you can renew the visa and live in the U.S. for decades, an immigrant visa (green card) opens up more opportunities for yourself and your family members.
The options to convert an E2 visa to a green card include an EB 5 visa and marriage to a U.S. resident or green card holder. Additional possibilities are employment-based sponsorship or merit in a field you are well positioned to advance in.
---