If you want to maximize the benefits of an E2 investor visa, you have come to the right place. This type of visa is a popular pathway for foreign investors, entrepreneurs, and their families to move to the United States to develop and direct a business.
An E2 visa does involve a good deal of research and preparation. The E2 visa application requirements are extensive but position you well for success in the United States. Two basics are:
Many E2 visa investors work with franchise companies rather than set up independent businesses. U.S. immigration officials like that franchises have proven track records, and E2 visa investors enjoy franchisors' ready-made structures to follow, their help with location selection, and the ongoing support they provide.
Franchises typically are happy to work with E2 visa applicants who can pick from many sectors such as fast food cleaning services, and lawn care. Preparing your E2 visa application and business/investment plan becomes easier because you can draw from the operations and procedures that franchises have set out.
Here are five tips on how to make your E2 investment visa work for you.
Before applying for an E2 investment visa, do your due diligence. Research all visa requirements before submitting your application. Any mistakes can result in delays or even denial of your E 2 visa petition.
A lack of research can also lead you to apply for something that fails to sync with your goals. For example, the E-2 investor visa is not a direct pathway to a green card. (You can still get a green card if you have an E 2 visa, but the journey is not a straight line similar to what you could get with an EB 5 visa.)
Why research is important
Preparing and submitting your E-2 visa application takes time and money. Research ensures you are making the best use of your resources and that an E2 investor visa is the type of nonimmigrant visa category you want. Also, applicants must be from a treaty country with which the United States maintains commerce and navigation.
On the off chance you do not hail from such a nation, you would have wasted a good deal of time.
200 or so countries in the world

Only about 80 are on the E2 treaty country list
Common mistakes E2 investor visa applicants make when they hurry the process of investing without doing the proper research involve the following.
Not investing enough money for the investment to be considered substantial. Typically, U.S. immigration officials like to see a minimum of $100,000 invested.

Not having enough ownership in the business. You should plan on at least 50% ownership and more like 100% if your investment is a relatively low $100,000.

Not demonstrating that the venture won't be a marginal enterprise. The venture must create U.S. jobs and be substantial enough to generate enough income to provide a minimal living for yourself and your family members.

Not showing that you intend to direct the enterprise and be involved in daily operations.
You also must show that the origin of your funds is legitimate and that the U.S. business would be an active enterprise offering services and/or products.
Research involves the development of your business plan.
Business plans are a key part of the E2 nonimmigrant visa. They help show that the investment is not marginal, would create U.S. jobs, and positively affect the economy. Your research involves how to craft business plans to meet E2 visa treaty investor requirements.
In other words, an E2 investor visa submission has multiple parts. Research ensures you understand how to approach each part so that your visa application can be as successful as possible.
There is even more to the picture. The visa requires that you have the plan to depart the United States once the visa is up. An E2 visa is valid for about two to five years at a time. You can renew the visa as many times as you want as long as you and the business qualify for it. However, you still must show that intent to depart the United States.
For you to qualify for business visa renewal, your venture must be doing well and living up to its promise. Research helps you see the big picture and have a decent idea of where you and the business could be five, 10, 15, or even 20 years from now.
How to conduct E2 investor visa research
Many E-2 visa investors have business and research experience. You may have strategies that work well for you, so keep doing what has proven effective.
In general, draw from a combination of people and government sources when researching. The research begins significantly before you even apply for the E-2 visa. That is because you must know what kind of business you're investing in for the E2 visa submission and be up to date on investment amounts, percentage of ownership, and many other details. Start with your finances, assets, and resources.
How much money do you have for the expenditure?
Can you prove the money is legitimate?
How?
Determine the type of business you want to own. Franchise businesses are popular and effective among E 2 visa investors.
The sources that can help
You have many options to conduct research for your E2 investor visa submission. Depending on your personality and style, you might have better luck with some strategies than others. The choices include current E-2 visa holders, government sites, lawyers, and franchise coaches.
Talk with others From your treaty country who have undergone the investor visa Submission process
The more recently they applied for the visa, the better since their information is more relevant to your current situation. Ask how they approached their application, how they prepared their business plans, what tips they have to share, and what mistakes they wish they had avoided.
Chat with both accepted and rejected E 2 treaty investor applicants if possible. Fortunately, about 90 percent of E2  investor visa applications get accepted. You should have an easy time finding E2 visa-approved folks. The E2 visa applicants who got rejected can tell you why the denials occurred. That helps you avoid the same fate.
If you want, you can chat with E2 visa entrepreneurs who are not from your treaty country. Do so with one important thing in mind:
E2 visas and requirements differ from country to country, and each embassy is different. The requirements that applicants of other nationalities had to follow might not apply in your case and vice versa.
Consult Lawyers About E2 Investor Visa
Immigration lawyers have websites explaining the E2 treaty investor application process. Some of these lawyers offer free consultations and can answer your questions. They work with all types of people, including investors and employees, prospective immigrant visa holders, and prospective non-immigrant visa holders.
Talk With Franchise Coaches And/or Your Business Partners
Many visa entrepreneurs who move to the United States as E 2 treaty investors do so as franchise business owners. Franchise coaches help them select the franchise they work with. Coaches and franchisors tend to be familiar with the E2 investor visa holders process and are happy to help you with research.
Review your embassy or consulate Website Info On what E 2 visa applicants must do
Also, review the requirements outlined by your home treaty country on the U.S. E 2 visa website or your country's website.
For example, applicants in Italy must register with the online Yatri system and submit their treaty investor application electronically. They must include a resume or curriculum vitae, demonstrate at least 50% ownership of the business, submit evidence of investment, and many other things.
Embassies or consulates outline precise E2 visa submission requirements such as:
Page limits

Required supporting documentation

Application delivery

Formatting
Erring in just one area can lead to application rejection. Do your treaty investor visa holder research to ensure nothing slips through the cracks.
2. Understand Your Business Model
You must understand all the details about the type of U.S. business you will invest in and operate. Grasping these aspects helps you accurately explain how the business meets the requirements for an E2 investor visa.
What is a franchise business model?
The franchisor and franchisee relationship is at the heart of the various franchise business models. Franchisors are parent companies that sell certain rights to franchisees.
The parent franchisors have developed the company and its brand, operating systems, and processes. They sell rights to let franchisees use their business model, trademark, systems, and training and support infrastructure.
The franchisor's parents benefit because franchisees pay franchise fees and ongoing royalties. The company also expands and gets more customers and profits.
The franchisees benefit because they start a business with instant name recognition and time-tested operations. They also get training and support.
What are the four types of franchise agreements?
Single-unit, multi-unit, area development, and master franchising are the four types of franchise agreements. You can also think of them as the four types of franchise models.
Single-unit
A franchisor grants the rights for a franchisee to develop and direct one unit. This model is the most common and the one that many E2 treaty investors follow.
Running just one unit minimizes the chances of owners getting overwhelmed. In the future, an E2 treaty investor can expand his or her business to multiple units.
This agreement is similar to the single-unit model except franchisees get the rights to own and operate multiple units. This works for some E2 investor visa applicants.
That is because, as a treaty investor, you must make a minimal investment but the investment must be substantial. The amount is not specified but $100,000 really heightens your chances of approval. If the franchise you're interested in has low investment requirements, you can still meet the E 2 visa minimums by going with multiple units.
Area development
This model enables franchisees to open multiple units over a specified timeframe in a certain region. Alternatively (or in addition to), franchisees own the rights in a specific territory and collect part of the franchise fees and ongoing royalties from other franchisees in the area.
Some E2 visa investors eventually become franchise area developers as their business grows. However, being in area development from the start does not apply to many treaty investor visa holder situations.
Master franchising
Master franchising also called sub-franchising, grants franchisees the same rights they get in area development plus another key right. That is the right to sell franchises to other entrepreneurs in the specified territory.
Master franchisees can act as franchisors for the area, too.
What are the common types of franchised businesses?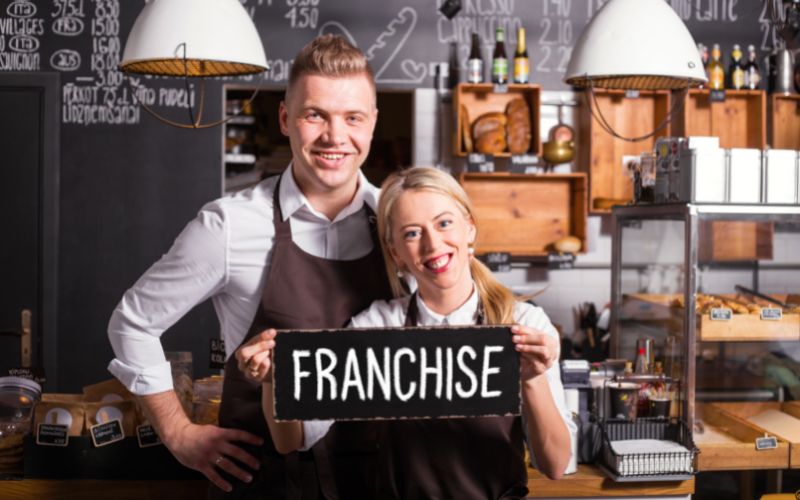 Five general types of franchises exist; business format, job, product (or distribution), investment, and conversion. Let's look at each.
Business Format
This is the most popular type of franchising, with the most common industries involved being fast food, restaurant, business services, and fitness.
Franchisees receive the franchisor's trademarks and system to sell their products or services. Franchisors provide extensive training and support, too.
Most of these franchisors are happy to work with foreign investors on the E-2 visa process and setting up a business. However, a few of the most popular franchisors do not work with treaty investor visa applicants because they have so many U.S. applicants to choose from already.
Job
Job franchises have low investment requirements. Many are home-based or vehicle-based. Franchisees purchase minimal inventory and equipment.
Examples include domestic cleaning services, cellphone accessories and repair, plumbing, and lawn care. They can work well for E-2 visa requirements, but do ensure your investment is large enough and that the business would employ enough American workers to meet the not-marginal requirement (a minimum of three to five employees is good).
Product (or distribution)
In this setup, franchisees distribute the franchisor's products. The franchisor may also license part of its manufacturing (like Coke does). However, the franchisor does not always give its franchisees the complete system for running the business.
The products typically are large and include cars, computers, and bicycles. Examples of this franchise type include Goodyear Tires, John Deere, and Exxon.
This franchise structure usually is not the best for E2 investor visa holders because of the lack of a plan to follow. Franchisees typically must have knowledge and background in the industry sector too, while they often do not for business format franchises.
However, a product or distribution franchise could work in situations where visa entrepreneurs are very familiar with the products and have extensive business experience.
Investment
An investment franchise is for the big investments typical in hotels and larger restaurants. This isn't the most natural fit with E-2 visa requirements because franchisees normally do not oversee the daily operations of the business themselves. After all, the Department of State expects E-2 visa investors to enter the United States to open and run a business.
Investment franchises may also require a substantial amount of capital way in excess of $100,000. An EB 5 visa with its higher investment and job creation requirements (a minimum of 10 jobs) may work for some higher net-worth foreigners interested in an investor visa.
Conversion
Conversion franchises do not necessarily apply in E-2 visa situations. In this setup, a franchisor buys independent stores in its industry and turns them into franchisees.
However, if you are thinking about purchasing an existing business for your investor visa, a franchisor might want to turn it into a franchise. This commonly happens in industries such as home-related services (plumbing, air conditioning, etc.), professional services, real estate brokerages, and florists. If you can find a franchisor to work with, this could be part of your treaty investor visa application.
3. Choose The Right Location
The location could make or break the business you develop and direct. Thus, the built-in research and help with site selection is one reason a high number of E2 treaty investor visa applicants work with franchisors.
After all, many visa applicants are not in the United States (at least not consistently) yet must choose a terrific business location when they are halfway across the world in their country of origin.
Online research,
online maps,
emails,
and phone calls go only so far.
The input from a franchisor is invaluable.
Franchisors typically are heavily involved in site selection, lease negotiations, and market and competitor research for both visa and non-visa franchisees. They want you to have the right location to ensure your (and their) success. They have the technology, software, people, experience, and expertise to maximize the odds of finding a successful location.
Compared with the franchise process, you have a much harder time choosing the right location for your visa business if you're opening an independent store.
Why is choosing the right location important?
Real estate costs, rental costs, regulation and tax, accessibility, business visibility, and the proximity of available workers play roles in why choosing the right location is vital.
For example, visibility is critical to the success of any business. Poor site selection means customers cannot find your business or have trouble accessing it (weird parking situations, constant street construction, hazardous weather conditions, etc.).
There's more to location selection than choosing the right spot in a certain town. You must pick the right state and city (or suburban or rural area). Some businesses fit the culture and vibe of certain areas of the country much better than other businesses do. You would ideally have a business located close to a good worker pool, too.
What are the factors to consider when choosing the right location for your business?
When selecting a location for your business under the E2 investment visa program, consider potential growth potential and market availability. Account for factors such as local regulations and taxes. If you are working with a franchisor, you must have the franchisor's approval. Chances are that the franchisor is already heavily involved in the location selection process, though.
Important factors for location are the types of customers you serve, the cost of the location, parking, business visibility, and site traffic throughout the day. Never choose a location without having adequate insight into your customers.
When do they tend to shop and where?
Why?
What are their pain points, needs, incomes, jobs, ages, races, genders, religions, and politics?
How do they shop?
What is the amount of money they tend to spend at stores like yours?
Choosing a good location could mean a site right in the middle of heavy foot traffic. Downtown and next to a big-university campus are two examples. Rent could be higher in these situations, though.
You must consider cost as a critical factor in location selection. The highest-visibility location with tons of customers does you no good if the rent is so high you barely break even.
4. Prepare Your Business and Financial Plan
Standard business plans do not work for E2 visa application purposes. That is because U.S. Department of State officials check for factors such as legitimate funding sources, your intent to depart the US after the visa term is over, your commitment to the business, and its potential for a positive, not marginal, impact on the economy.
In this vein, your E2 visa application should include the following elements, among others: a straightforward E2 visa plan for your business analyzing your venture's local market and competitors, a five-year profit and loss projection, and an assessment of the startup costs necessary for the business to become operational.
Explain how it will become operational from the first week of your arrival in the United States (if it is not yet operational).
Do not skimp on any of those areas.
What are the financial details to include?
Your financial plan should include detailed projections on your business investment income and expenses over time. The goal is to demonstrate to U.S. citizenship and immigration officials that your enterprise has the capacity to generate enough revenue to financially support yourself (and your spouse and unmarried children) within two to five years after it starts operations and that it won't be marginal.
Include elements such as the following.
Documentation (a paper trail) that you have control and possession of your investment funds and that they are legitimate

That the investment is "at risk" (one way to show this is by having leases signed and other expenses spent)

That the size of your investment is substantial in proportion to the costs of the total business venture

How the business will create new U.S. jobs within five years

The exact route to success and profitability
How to Prepare Your Business Plan
1. Decide whether you will do it yourself or outsource the work.
Many companies specialize in preparing E2 visa applications and can take charge of plan writing as well as related aspects of the application. If you are working with lawyers or franchise coaches, you can get recommendations from them for companies.
2. Check the requirements from your embassy or consulate.
Italy, for example, requires that nationals prove they own at least 50% of the business. They can do this through articles of incorporation (for corporations) or articles of organization (for LLCs), share certificates, organizational charts, or other listed means.
Then in a maximum 40-page "Investment" section (single-sided pages), Italy mandates that investors include a cover letter describing how the investment qualifies for E 2 status and how the investors have irrevocably committed funds with evidence of investment.
In the "Real and Operating" section (maximum 20 single-sided pages), entrepreneurs should include state or federal licenses and monthly bank statements. In the "Marginality" section (20 single-sided pages), the E 2 visa application should include U.S. tax returns for the past two years, profit and loss statements, and for startups, a plan analyzing the competition and forecasting five-year profit and loss numbers.
3. Include details on your marketing strategy.
How will you handle marketing in the United States and on what budget? What are your marketing requirements, and do you have clients already lined up? The more solid your plans, the better.
That is one reason franchise businesses are almost akin to gold for E2 visa applications. These businesses already have much of the legwork prepared: a recognizable brand, a customer base, a location, marketing research, site selection, etc.
4. Explain how your skills and experience are relevant.
U.S. immigration officials want to see that you are capable and credible as far as running the type of business you have chosen. It is a red flag if you cannot demonstrate a link between your capabilities and the work your business does.
That does not mean you must have a lot of business experience or a job history in the field of whatever your franchise business is. Many skills are transferable, but you do have to draw the lines to make the links clear.
5. Ask successful E2 visa applicants to review the plan (if you're doing it yourself rather than outsourcing).
The visa applicants can check for common errors and mark any areas that are filler or fluff. The plans truly should be concise and to the point, not flowery, wordy, or jargon-filled.
5. Keep Up With Changes and Developments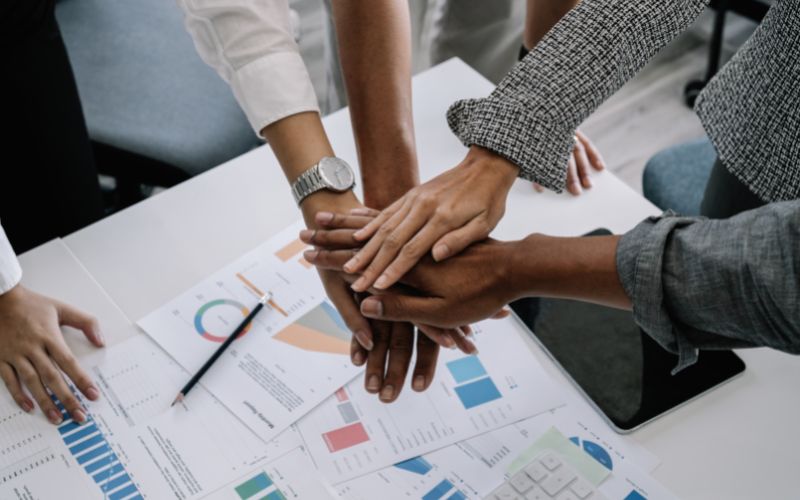 As with any immigration program, stay up to date with changes or developments relating to E2 investment visas. Doing so lets you make adjustments if necessary during or after the application submission process.
This includes staying updated on changes related not just to E2 visas but other immigration categories such as EB 5 Investor Program or L-1 Intracompany Transfer visas. They may be relevant depending on your circumstances, for example, if you plan to expand U.S. or overseas operations from a U.S. base.
Stay on top of state-specific laws, too. Changes could affect licensing requirements or how much tax you pay, for example.
In some good news, the COVID-19 visa application slowdowns seem to be improving. The pandemic had huge negative effects on the E2 visa program. In a common scenario, many investors could no longer physically move to the United States because of travel restrictions.
Further, small businesses (E2 and non-E2) faced unprecedented challenges to stay operational during lockdowns. Department of State processing of E2 visa applications took much longer too, especially with officials prioritizing immigrant visa applications over non-immigrant applications.
Fortunately, the processing time at your embassy or consulate should be faster now. Still, much depends on your particular treaty country.
Be cautious about filing for a change of status if you are already in the U.S. under something other than an E2 visa. An approved change of status does not equal a visa, much less one where the visa is valid.
Your embassy or consulate could view such requests as suspicious (as they have in other situations) even though it is legal and something you do because of slow or nonexistent E2 visa application processing.
In the 2020 fiscal year:
35,812 total E2 applications
33,129 accepted
2,683 rejected
In the 2021 fiscal year
26,759 total E2 applications
23,493 accepted
3,266 rejected
In 2020, Japan had the most E2 visa approvals at 8,654.
Canada: 2,500
South Korea: 1,973
Germany: 1,487
France: 1,279
Great Britain and Northern Ireland: 1,275
*Data gathered from Travel.State.Gov
Some graphs and data if you want to emulate a few here.
Following these five steps helps ensure successful navigation through the E2 investor visa process while also helping maximize its benefits post-approval. With careful preparation, dedication, and proper understanding of the E 2 investment visa program, participants have the opportunity to become successful entrepreneurs living to work in the United States.
If you choose to open or buy a franchise business versus start a business or consultancy from scratch, you do get a tremendous head start in all areas.
Research:
Many E2 visa investors have enjoyed success with U.S. franchises. Quite a few of their stories and journeys are online for you to learn from, and others are happy to talk with you in person as you research before preparing your E 2 visa application.
Franchise coaches are invaluable assets in the research stage, too. They match you with a good franchise for your budgets, skill set, and needs. Your research will also tell you that U.S. immigration officials look favorably upon E2 visa applications involving franchises given the track record and odds of success.
Understand your business model:
With franchises, you can expect to get a playbook as to how to run your business. Very little, if anything, is left for you to guess. This can be an incredible help too if you are unfamiliar with some aspects of U.S. society.
Choose the right location:
When you're halfway across the world, choosing the right location can be tricky. It can be even if you're already in the United States, as so many seemingly small details can make or break the prospects of a business. Luckily, franchisors do extensive location research for you.
Prepare your business plan:
Franchisors have a lot of what you need to include in business plans already researched, for example, your market and competitors, how and when you'll hire employees, how many employees, and so on.
Keep up with changes and developments:
Franchisors can often keep you looped in as to changes in federal or state law affecting your business. Of course, you must remain proactive as well and ensure your E 2 visa application is moving forward.
Franchising is the way to go for many E 2 visa applicants because they get a partner of sorts and ready-made systems to follow. It is still critical to research and prepares properly. Contact franchise coach Adam Goldman today for assistance in finding the perfect franchise match for your situation.
---